Pentagon: Baghdad govt 'probably' needs outside help to resist ISIS onslaught
Published time: 4 Jul, 2014 18:35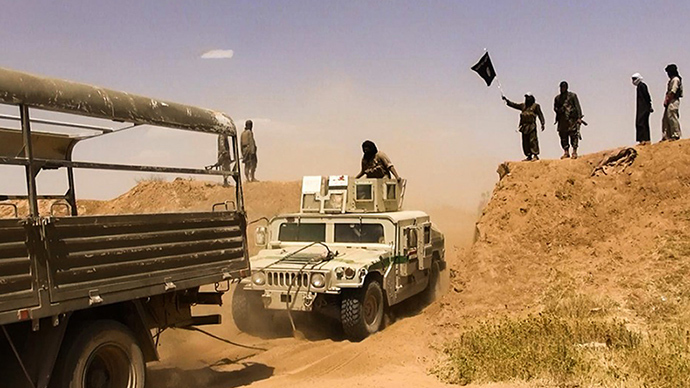 The US government admits Iraqi security forces are unlikely to retake large areas of the country, which are under the control of Sunni radicals, without outside help.
Defense Secretary Chuck Hagel and General Martin E. Dempsey, Chairman of the Joint Chiefs of Staff, painted a gloomy picture at a news conference on Thursday, as they discussed the turmoil in the country.
There are currently over 800 military advisers and other troops in Iraq, with the vast majority arriving in the past three weeks. Dempsey mentioned that the US government was also contemplating airstrikes, but did not want to give too much away. "What will we be willing to contribute to that cause?" he said. "That's not a question that we're prepared to answer just yet."
Dempsey painted a rosier picture about the current state of the Iraqi army, who had been humbled last month after an onslaught by the Islamic State of Iraq and the Levant (ISIS/ISIL). He said that they had "stiffened" their resistance to the fast moving insurgency and believes government forces are "capable of defending Baghdad," but would find it difficult to reclaim lost territory without external assistance.
"If you're asking me, 'Will the Iraqis at some point be able to go on the offensive to recapture the part of Iraq that they've lost?' I think that's a really broad campaign-quality question. Probably not by themselves," he said. "Doesn't mean we would have to provide kinetic support, but suggesting that's the direction this is headed," Dempsey said.
Added American influence in Iraq could hinge on political developments within the country. Iraq's Shiite prime minister, Nouri Al-Maliki, has managed to alienate other religious groups such as Sunnis and Kurds, while it is also unknown whether he will be able to gain enough votes to stay in power. The US remains reluctant to commit to al-Maliki because it would be pointless for Washington to take sides, if their partner is not seen as reliable.
Iraq has received support from its near neighbor Iran, whose Shiite-dominated government has forged a close relationship with Maliki. Iran has reportedly sent military equipment and is currently flying surveillance drones over Baghdad. Russia has also been helping Baghdad, by sending fighter jets as well as a small number of military advisers.
However, Hagel and Dempsey were keen not to give any guarantees that more US troops may be sent to Iraq. Hagel said: "President Obama has been very clear that American combat troops are not going to be fighting in Iraq again." But when asked how that could be the case if Obama orders airstrikes in Iraq, which probably would be guided by US forces on the ground, Hagel said he was referring only to the US advisers and assessment teams now in the country and acknowledged that their mission could change.
"We have one mission today, and that's assessments," Hagel said. "I don't know what the assessments are going to come back and say or what they would recommend."
Part of the problem the US is facing is that Sunni insurgents have managed to blend into the local population, which would raise the likelihood of civilian casualties if Washington was to carry out bombing raids to try and hit back at ISIS.
On Thursday, Dempsey said that intensified surveillance flights and the deployment of US advisers and liaison officers had improved the Pentagon's view of the battlefield. But he added that it was still difficult to sort out hard-core Islamic State fighters from disaffected Sunnis opposed to Maliki's rule.
"We have a much better intelligence picture than we did two weeks ago, and it continues to get better," Dempsey said. "The complexity, though, is the intermingling of [Sunni] groups. . . . And that's going to be a tough challenge to separate them, if we were to take a decision to strike."
Dempsey, who served on a number of tours of Iraq, said ISIS could be defeated, adding that they were "stretched" after taking control of so much territory and that their supply lines were vulnerable to disruption.