Target ISIS: First batch of Russian fighter jets arrives in Iraq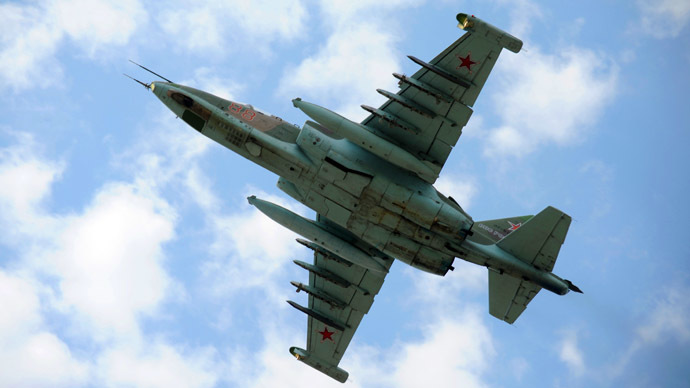 The first delivery of Russian Sukhoi fighter jets arrived in Iraq on Saturday, the country's Defense Ministry said. Iraqi Prime Minister Nouri al-Maliki is hoping the jets will make a key difference in the fight against ISIS.
The Iraqi Ministry of Defense on Sunday confirmed receiving five Su-25 fighter jets in accordance with the deal with Moscow. The jets were delivered by a Russian An-124 transport plane in a dismantled state, and are expected to be set up and become operational within 3-4 days.

"The Sukhoi Su-25 is an air-ground support and anti-terrorism mission aircraft. In these difficult times, we are in great need of such aircraft. With God's help, we will be able to deploy them to support our ground forces on a mission against the Islamic State in Iraq and the Levant militants within the next 3-4 days," Iraqi Army Lieutenant General Anwar Hamad Amen Ahmed told RT's Ruptly news agency at an airport receiving the jets.

According to Ahmed, Iraq will wage a "massive attack" on insurgents with the help of the jets.
"We have experienced pilots and other professionals. Our Russian friends have also sent their own experts to assist us in preparing the aircraft. All the logistics have been planned for as well," the lieutenant general said.

Earlier, Iraqi MP Abbas al-Bayati was quoted as saying by local media that ten Russian jets have been delivered, with Iraqi media identifying them as Su-24s. However, the conflicting information has not been confirmed by other sources.
The fighter jets will be stationed at an airbase located in the southern part of the country, PressTV reported, citing military sources.
Earlier this week, Prime Minister Nouri Maliki revealed that Iraq purchased jets from Russia and Belarus in order to help its fight against Sunni militants from the Islamic State in Iraq and the Levant (ISIS/ISIL).
READ MORE: ISIS crucify eight anti-Assad fighters in Syria – watchdog
At the same time, Maliki criticized the US for taking too long to deliver on its own contract after Iraq purchased F-16 jets from America.
On Friday, Iraqi Air Force Commander Hameed al-Maliki confirmed the shipment of MI-35 and MI-28 Russian helicopter fighters to "keep the momentum" in the attacks against ISIS, Ruptly reported.
The commander said that he signed three contracts with the Russians and stressed the importance of the choppers as "excellent anti-terrorism weapons."
The radical Sunni ISIS militants have taken large parts of the country's north from the Shia government.

Things you need to know about ISIS and what is happening in Iraq
Hundreds of Iraqi soldiers have been killed by insurgents since the Sunni militants began their offensive on June 9, according to Iraqi forces.
The United Nations says more than 1,000 people – mainly civilians – have been killed during the surge thus far.
You can share this story on social media: