ISIS crucify eight anti-Assad fighters in Syria – watchdog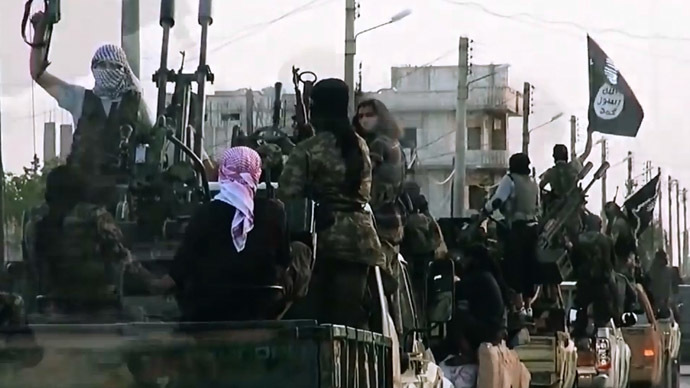 The Islamic State of Iraq and the Levant (ISIL/ISIS) fighters have publically executed and crucified eight rebels who were fighting both Assad and jihadists, according to a monitoring group using information from local sources.
The eight men were brutally killed in the town square of Deir Hafar in the east of Aleppo province on June 28 because they were from rebel groups that had fought the jihadists as well as President Bashar Assad's forces, the UK-based Syrian Observatory for Human Rights said, AFP reports.
ISIS then "crucified them in the main square of the village, where their bodies will remain for three days," the pro-opposition NGO added.
A ninth man was crucified alive in Aleppo province where he was nailed up for eight hours in Al-Bab near the Turkish border as a punishment, although he has reportedly survived the ordeal.
Read more: ISIS mass executions in Iraq detailed
ISIS first emerged with any strength in Syria in late spring last year. They were initially welcomed by some of the Syrian rebels who thought their combat experience might be handy in their three-year battle to topple Assad.
But ISIS's numerous human rights abuses quickly turned the Syrian opposition including other Islamists against them.
In January 2014, the Syrian rebels launched a major anti-ISIS offensive and managed to push them out of large areas of Aleppo province and all of Idlib. But they are still entrenched in Raqa, their northern Syrian headquarters, and in Deir Ezzor in the east of the country near the border with Iraq.
The Observatory says that clashes between rival Islamist groups in Syria have claimed the lives of about 7,000 people since January.
ISIS's successful June offensive in Iraq and their capture of heavy weapons, some of them US made, has given them a new run of confidence over the border in Syria.
Read more: All you need to know about ISIS and what is happening in Iraq
However, a recent counter attack by well-equipped Iraqi army forces supported by helicopter gunships has pushed them back and halted their advance.
There is also an effort on the political front in Baghdad to create a government that will reflect the interests of Iraq's Sunni Muslims, in an attempt to draw support away from Sunni jihadists.
You can share this story on social media: