White House announces an additional 300 troops to Iraq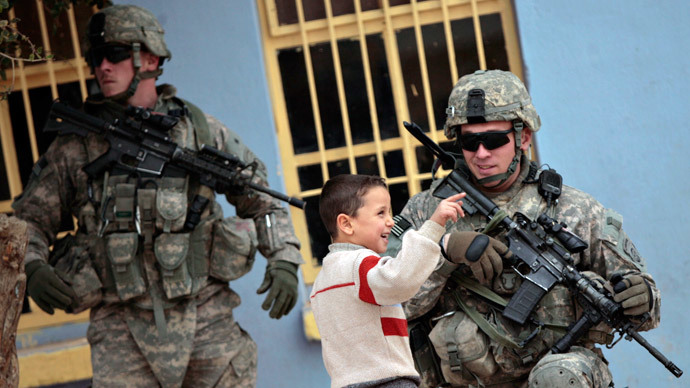 Less than a week after announcing the deployment of additional US personnel to Iraq, the White House has said that up to 300 more troops are being sent to the country to bolster security at key facilities amid an organized push by ISIS militants.
In a letter to Congress on Monday, President Obama wrote that additional troop deployments are "a prudent measure to protect US citizens and property."

"This force is deploying for the purpose of protecting U.S. citizens and property, if necessary, and is equipped for combat," wrote the President.

The letter, the third in two weeks, outlined that the additional force would include a detachment of helicopters as well as unmanned aerial vehicles, or drones. The troops are meant to reinforce security at US diplomatic facilities, as well as Baghdad International Airport.

Taking into account Monday's announcement by the administration, recent US reinforcements into Iraq now stand at 875. On June 16, the president authorized a 275 troop deployment to strengthen embassy security in Baghdad.

The White House also authorized 300 troops to travel to Iraq in an advisory role, to train and assist Iraqi forces against ISIS following an embarrassing withdrawal from Mosul earlier in June. The withdrawal brought into sharp focus the level of combat readiness of Iraq's armed forces.

On Monday, ISIS (the Islamic State of Iraq and the Levant, or simply Islamic State) announced the creation of a caliphate, or an Islamic state governed by Sharia law, throughout its controlled territory within Iraq and Syria. The group proclaimed its leader, Abu Bakr al-Baghdadi, as the caliph and demanded Muslims around the world pledge their allegiance.

As ISIS has expanded its reach within Iraq, questions regarding Baghdad's security have been raised. Though State Department spokesperson Jen Psaki said the US embassy in the city "remains open and will continue to engage daily with Iraqis and their elected leaders," officials cited by the Washington Post believed the additional troop deployments were aimed at not only protecting the embassy, but also ensuring escape routes in the event of an evacuation.

On Monday, ISIS forces continued fighting in Tikrit, a city which lies 100 miles northwest of Baghdad. Additional clashes were reported 35 miles south of Tikrit, in Samarra.

The additional personnel announced by the White House on Monday began arriving one day earlier, on Sunday, according to Pentagon press secretary Rear Admiral John Kirby.

"The presence of these additional forces will help enable the Embassy to continue its critical diplomatic mission and work with Iraq on challenges they are facing as they confront ISIL (ISIS)," said Kirby.

Iraqi Prime Minister Maliki lashed out at the US for alleged delays in the delivery of purchased F-16 fighter jets and Apache helicopters. In the meantime, Iraq has begun receiving a number of Russian fighter jets to mount a campaign against ISIS movements in the region.

Highlighting the complexity of different interests in the region, both Iran and Syria have also become active in combating ISIS within Iraqi territory. Iran has reportedly sent military equipment and is currently flying surveillance drones over Baghdad, while there have been reports of air raids conducted within Iraq by Syria's air force.

Though ISIS has seen its territories in Iraq's north expand, the current belief is that Baghdad itself is not in danger of being overrun. Still, US efforts to bolster the city's security reveal that the Pentagon is taking the threat seriously.

ISIS, now the Islamic State, has risen to become a formidable alliance comprised of Sunni radicals in Iraq, alongside former members of Saddam Hussein's Baath Party.

"You could see it coming as the Baathists joined with them at the upper levels," a British officer with knowledge of the Saddam regime told McClatchy DC news.

"These are the men who ran Saddam's Iraq, and whatever you think of those old bastards, there was one thing they were very good at: controlling Iraq like nobody else ever did," the former officer said.

The Islamic group has also preyed on dissatisfaction among Iraq's Sunni minority, who feel they have been pushed aside by Maliki's government. Recent fighting has worried many who fear a return to the country's worst period of sectarian bloodshed in 2006 and 2007.
You can share this story on social media: