N. Ireland Minister of State becomes 1st to quit after May's draft Brexit deal approved by cabinet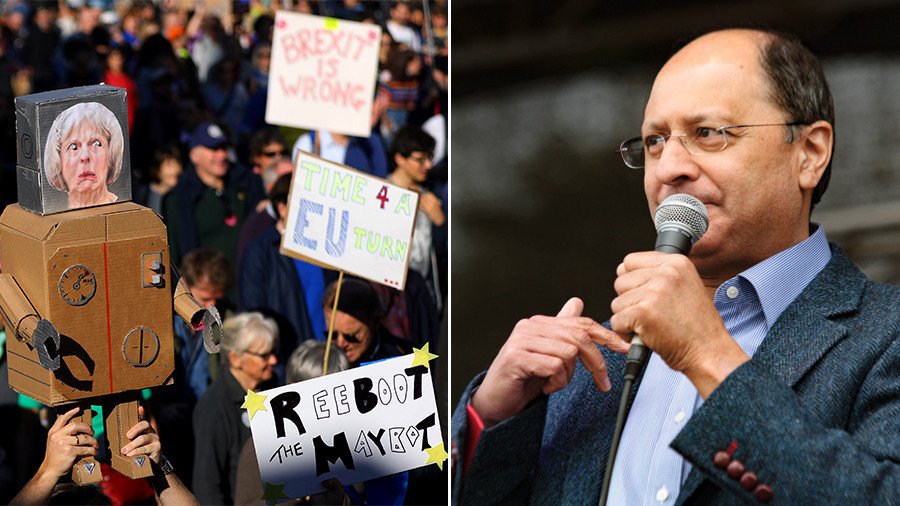 In the first resignation following Theresa May's Brexit agreement, Minister of State at the Northern Ireland Office Shailesh Vara has quit his post. He said that he "cannot support the withdrawal agreement" clinched with the EU.
Theresa May's EU withdrawal agreement leaves the UK in "a half-way house with no time limit on," his letter of resignation states. Vara assumes that, given the past performance of the bloc, there is a possibility that the trade deal "will take years to conclude."
We will be locked in a custom arrangement indefinitely, bound by rules determined by the EU over which we have no say.
What will be even worse is that the UK won't be able to leave this arrangement unilaterally, he noted.
With much sadness and regret I have submitted my letter of resignation as a Northern Ireland Minister to the Prime Minister. A copy of my letter is attached.It has been a joy and privilege to serve in the Northern Ireland Office and I will always cherish the fondest memories. pic.twitter.com/SN8j4OwhYD

— Shailesh Vara MP (@ShaileshVara) November 15, 2018
Just an hour into Vara's announcement, there was more bad news for May. Brexit Secretary Dominic Raab announced he was quitting, saying: "I cannot in good conscience support the terms proposed for our deal with the EU."
READ MORE: UK Brexit Secretary Dominic Raab resigns over deal with EU
The resignations of Vara and Raab are the latest in a series of blows for Theresa May, whose Brexit deal was backed by her cabinet on Wednesday. May has been losing ministers one after the other in a furious backlash to her Brexit plans in recent months. Earlier in November, Jo Johnson, brother of Boris Johnson, left the PM's cabinet as transport minister, claiming the Brexit deal being finalized "will be a terrible mistake."
READ MORE: Draft Brexit plan approved by British cabinet, released to public
Johnson's resignation came four months after his brother, arch-Brexiteer Boris Johnson, quit as foreign secretary over the same issue. He earlier called the plan "a suicide vest" wrapped around the British constitution, adding that the detonator has been handed to Brussels.
While May claims the plan is the "best that could be negotiated," Nigel Farage, the former leader of the UK Independence Party (UKIP) who campaigned for a hard Brexit, dubbed the plan the "worst deal in history."
Think your friends would be interested? Share this story!
You can share this story on social media: