Napoleonic times redux? Europe should become 'EMPIRE', says French minister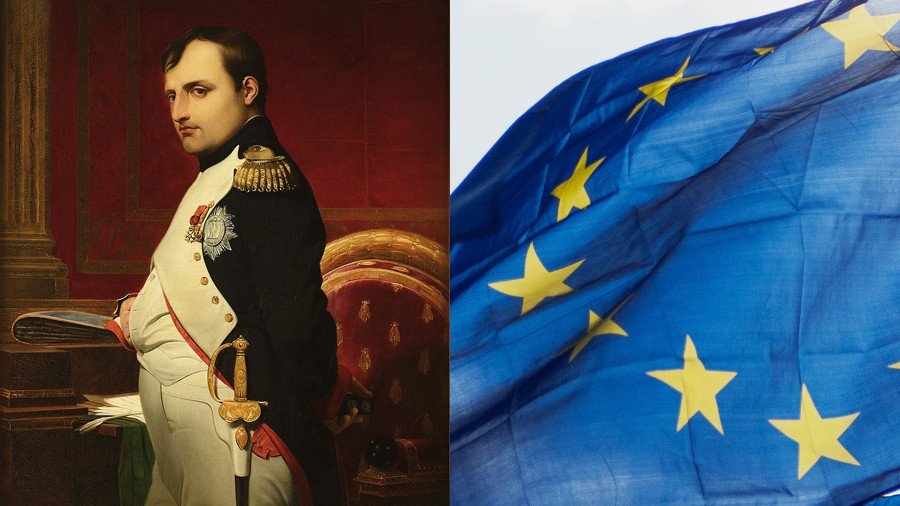 Europe shouldn't be shy of using its power and should become an "empire" like China and the US, France's finance minister said after the president's speech about 'a European army' – an idea which was later bashed by Donald Trump.
"I'm talking about a peaceful empire which is a constitutional state," Bruno Le Maire, told Handelsblatt newspaper in an interview released on Sunday.
This empire will be based on the principles of technological, economic, financial, monetary and cultural power. "Europe should no longer be afraid of using its power and [become] an empire of peace."
Le Maire also stressed that Europe has to tell Washington that it is a "sovereign continent" and it should decide for itself with whom it trades. "We want a way to exchange goods and services when financial flows between Iran and Europe are no longer possible," the minister said, speaking on the US sanctions towards Iran.
According to the minister, it is clear to everyone that today "it takes courage to stand in the way of the government" of Donald Trump.
The statement comes after the French president revealed he wants a "real European army" to combat Russian threats and to be less reliant on the US.
READ MORE: 'Misunderstanding'? Trump & Macron agree on need for 'strong Europe' after Don bashes EU army
For Macron the union can no longer depend on its key partner on the other side of the Atlantic which slammed the EU for failing to fund NATO and threatened to reduce US involvement. "We must have a Europe that can defend itself on its own without relying only on the United States," he said back then.
READ MORE: 'Good for multipolar world': Putin positive on Macron's 'European army' plan bashed by Trump (VIDEO)
Macron's 'army' idea was critisized by Trump who called it "very insulting" and demanded that Europe repay the US for its "subsidizing of NATO" instead.
Russian President Vladimir Putin, however, said the initiative is not only understandable, but would be "positive" for the multipolar world. "Europe is … a powerful economic union and it is only natural that they want to be independent and … sovereign in the field of defense and security," Putin told RT in Paris where world leaders gathered to mark the centenary of the end of World War I.
Like this story? Share it with a friend!
You can share this story on social media: