Transport minister Jo Johnson quits UK government, calls Brexit divorce deal a terrible mistake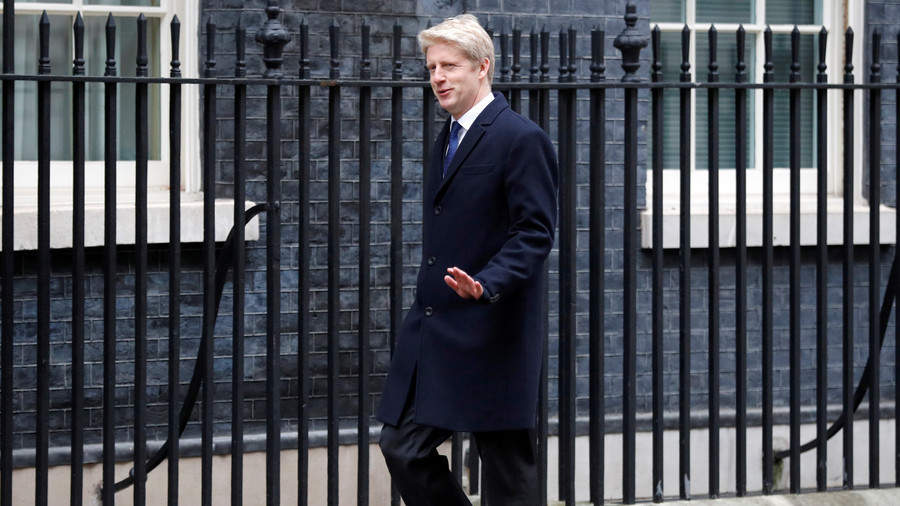 Jo Johnson, brother of Boris Johnson, has resigned from Theresa May's cabinet as Transport minister, claiming the Brexit deal being finalized "will be a terrible mistake," calling for a second referendum or 'people's vote'.
Johnson made the shock resignation via an online video through his Twitter account. The Orpington MP, whose brother Boris spearheaded the Leave campaign, warned PM Theresa May's Brexit deal would leave the UK outside the EU but "wholly subject" to its rules.
The now ex-cabinet minister, who campaigned for the UK to remain in the EU during the 2016 referendum, made the stark claim that the issue of Brexit meant "Britain stands on the brink of the greatest crisis since the Second World War."
He claimed the decision as to whether the UK now leaves the EU should be put into the hands of British citizens through a 'people's vote'.
Johnson said: "I think it is imperative that we now go back to the people and check that they are content to proceed on this extraordinary basis.
"Instead of 'in Europe but not run by Europe', we will be out of Europe and yet wholly subject to European rules."
In his video, he insists that any hopes that existed for the "easiest deal in history" had now turned out to be "delusions."
Tom Watson, Labour's Deputy leader, has called into question Theresa May's status as prime minister, highlighting the fact she has overseen a long list of cabinet resignations. Tory ardent remainers such as Anna Soubry and former education secretary Justine Greening, applauded Johnson for standing up for his beliefs.
Labour's shadow Brexit minister, Jenny Chapman, said Johnson was the 18th minister to quit May's Tory government, adding: "She has lost all authority and is incapable of negotiating a Brexit deal within her own party, let alone with the EU."
His resignation follows that of high profile Tories such as David Davis, his brother Boris, and Steve Baker who all fell out with the PM over her Chequers Brexit proposal.
Read More: Sinking ship? Spate of resignations could mean game over for Theresa May government
Downing Street have issued a statement saying: "The referendum in 2016 was the biggest democratic exercise in this country's history.We will not under any circumstances have a second referendum. The prime minister thanks Jo Johnson for his work in government."
It comes as Theresa May has been accused by the DUP of reneging on her promise to not sign up to a Brexit deal that treated Northern Ireland differently to the rest of the UK, warning the PM she couldn't rely on its support to get the plans agreed.
Think your friends would be interested? Share this story!
Subscribe to RT newsletter to get stories the mainstream media won't tell you.