Nazi camp survivor has wrong leg amputated in Russian hospital (GRAPHIC)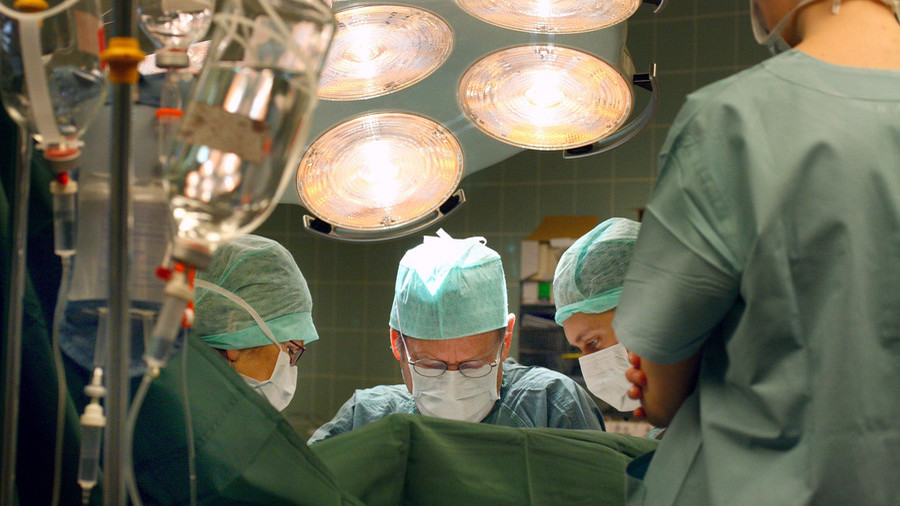 An 89-year-old survivor of a Nazi concentration camp has found herself in a slasher film scenario, as doctors in Russia amputated both of her legs – and her son says one of them was healthy.
Maria Dronova was hospitalized last week with a severe gangrene to a hospital in the city of Voronezh. Her condition was so serious that removal of her right leg remained the only way to save the woman's life.
The surgery took place on weekend and was successful, according to the hospital. But when Andrey Dronov came to visit his mother, he was shocked to find out that the healthy left leg was gone, and not the infected right one.
Moreover, instead of just amputating the foot as was initially planned, the surgeons cut off the leg all the way to the mid-thigh.
Andrey told the local media that the doctors initially acknowledged their horrific mistake to him, but then tried to cover it up. The medical referral, stating that the right leg should be cut off, has disappeared from the files in the hospital, he claimed.
The gangrenous limb still had to be amputated and a few days later Maria underwent another surgery, losing her second leg as well.
Dronova had a heroic life. She was captured by Nazis during World War II and survived captivity in a concentration camp until she was liberated in 1945 at the age of 16. She went on to become a math teacher, loved by her pupils and respected by colleagues.
Andrey vowed to do everything to see those responsible for mutilating his mother face punishment, making appeals to the police and the prosecutor's office. A criminal case over causing grievous bodily harm due to negligent execution of professional duties was launched on Thursday.
The surgeons defended themselves by saying that amputation of both legs was needed due to the patient's condition. The head doctor of Hospital No.3 in Voronezh, Sergey Shamsutdinov, appeared on TV and talked to the papers in order to clarify the situation.
He said that the patient was admitted to hospital in severe pain with irreversible lesions on both legs. The decision to urgently amputate the left leg was made during last-minute consultations by the surgeons.
"It might've seemed to an amateur that the leg wasn't seriously affected, but it was clear to the experts that it was a life-threatening condition," Shamsutdinov said as cited by RIA Novosti.
Maria's legs were amputated in two separate surgeries due to her old age, the chief doctor explained. Local health authorities have backed his account. However, there has been no explanation as to why the left leg, which was clearly in better shape, had to be amputated first.
READ MORE: Video of nurses abusing mentally ill patient sparks outrage, clinic boss 'ready to resign'
The incident caused a heated debate online, with many commentators choosing to attack the surgeons.
"That's the doctors we have now. They can't tell left from right," one of them said.
"The second leg is free. Don't look for crime here. It's marketing. Business and nothing personal," one of the darker comments read.
Others defended the doctors, saying that they "saved the woman's life" and should be thanked for their professionalism.
Some people argued that Andrey Dronov should've taken better care of his mother and not allow the gangrene to develop, instead of blaming the surgeons.
Like this story? Share it with a friend!