Meanwhile in Russia: Trucker risks drive across terrifying Siberian bridge (VIDEO)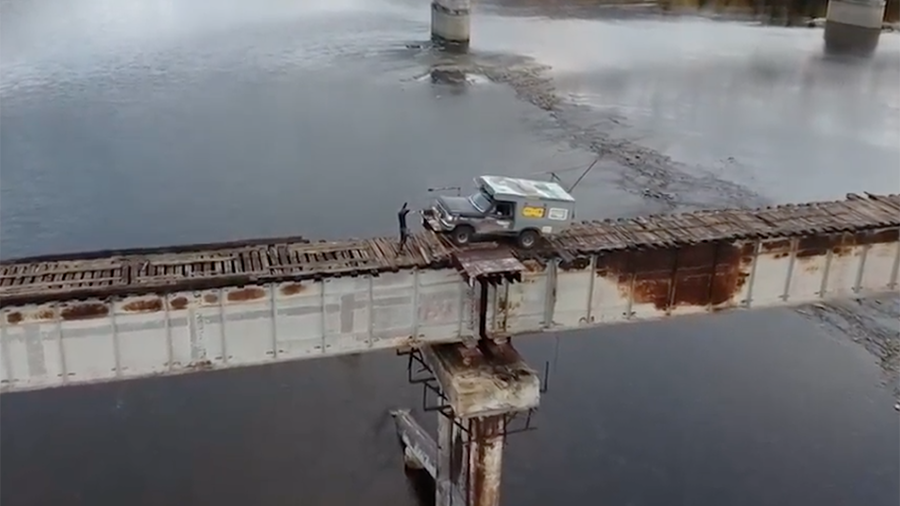 Video footage of a truck driving across the ramshackle Kuandinsky bridge in Siberia will have you on the edge of your seat.
The dilapidated bridge, which spans the Vitim River, is one of the most perilous crossings on the planet.
The 20m (66 feet) high bridge is barely wide enough to fit a car and doesn't have a safety railing, so even the slightest misstep can be fatal. The columns supporting the bridge are crumbling with rust and the wooden sleepers that form the crossing appear decayed and broken.
Yet despite the terrifying condition of the bridge, one daring traveller chanced a crossing in his truck, capturing the journey on video. The footage shows the rickety bridge as the vehicle bumps along the 500m (1,640 feet) long path.
In winter, the bridge becomes even more treacherous as the timber ices over and tyres struggle to get any traction.
The crossing, which runs parallel to a railway bridge, is in the Trans-Baikal region. It's part of the famous BAM road, one of the most testing and dangerous adventure roads in the world, according to the Dangerous Roads website.
Like this story? Share it with a friend!
You can share this story on social media: