US marshal killed, several police officers injured in Harrisburg shooting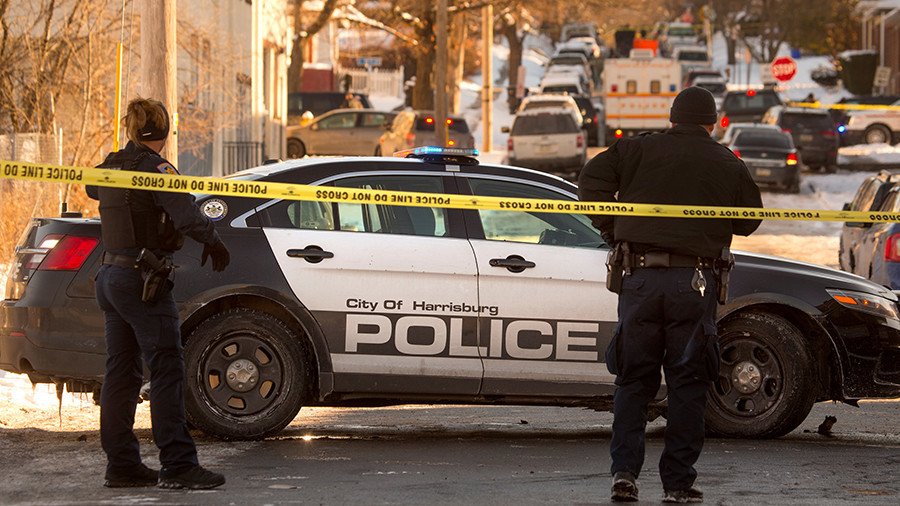 A US marshal was killed and at least two officer were wounded when gunfire broke out during the service of a warrant, the US Marshal Service said.
There were seven people in the task force team.
The USMS identified the marshal who was killed as Christopher Hill, a 45-year-old deputy marshal. He was an 11-year-veteran, a member of a highly-trained special operations group, and a father of two.
Law enforcement officials were executing an arrest warrant for Shayla Lynette Towles Pierce, who was wanted by the Harrisburg Bureau of Police for terrorist threat offenses.
Pierce was found with several children on the second floor of the home. After detaining and handcuffing Pierce outside the home, USMS said a male suspect opened fire on the officers from the second floor of the home, striking Hill, York City Police Officer Kyle Pitts, and a Harrisburg police officer.
The gunman then allegedly came outside the home and continued firing, and officers returned fire, according to Middle District Attorney Dave Freed. The gunman was killed in the shootout.
The USMS said the other officers were treated for non-life-threatening injuries. Officer Pitts is undergoing surgery and is expected to recover.
The US marshal died in hospital, according to PennLive.com.
Dauphin County District Fran Chardo said in a earlier news conference that there is no danger to the public.
"This was part of US Marshals taskforce warrant service. There was use of force and gunfire. It was a large-scale investigation [with] multiple agencies involved," Dauphin County District Attorney Fran Chardo told reporters on Thursday. "There is no current danger to the public. The person who used that force is not at large."
Chardo said a large-scale investigation is underway involving multiple agencies, including the US Marshals Service, Pennsylvania State Police, and the FBI.
Neighbors reported hearing dozens of shots fired on Thursday morning, according to WHTM.
Dozens of police crews and emergency personnel were at 18th and Mulberry Streets at a home in Harrisburg. The taskforce was serving an arrest warrant when the shooting occurred at 6.10am local time.
Chardo would not confirm the severity of the injuries to police officers. He said they are still working on notifying the families.
Harrisburg is the capital city of Pennsylvania.
You can share this story on social media: