Declassified report shows Northern Ireland police told not to arrest MI5 informants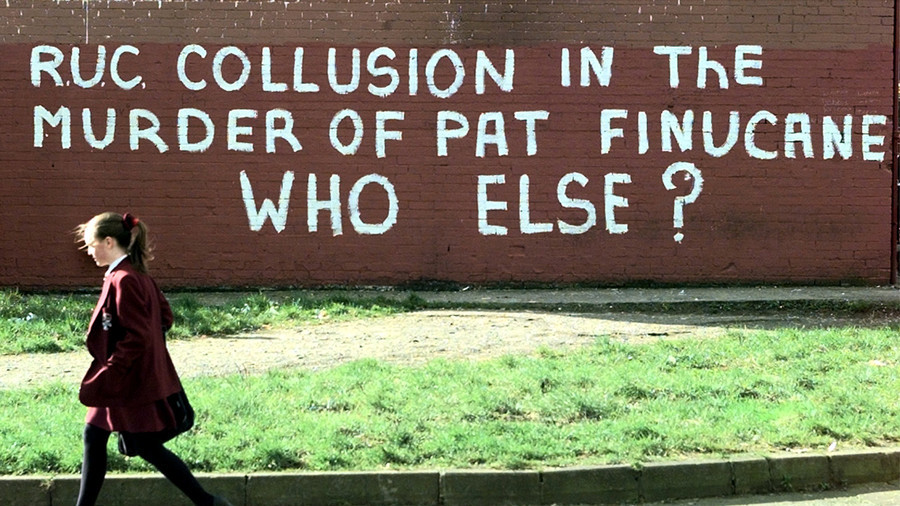 After almost 40 years in the dark, a declassified report has revealed that Northern Irish police were told to put intelligence before arrests by British spies, who were seeking to keep their terrorist informants on the streets.
Commissioned in January 1980, the Walker Report details how the British security apparatus recommended that informers within republican and loyalist paramilitary groups evade arrest for crimes by Royal Ulster Constabulary (RUC) officers due to their value as intelligence gathering tools.
This policy allowed such informers to be deemed "protected species" by detectives working as part of the RUC's criminal investigation department (CID).
Compiled by Sir Patrick Walker – a senior MI5 operative who went on to head the domestic security agency from 1987 to 1992 – the report was drafted following a series of high-profile IRA killings the previous year: the assassination of Royal Family member Lord Mountbatten by blowing up his yacht in Co. Sligo, Ireland; and the killing of 18 British soldiers in an ambush at Warrenpoint, Co. Down the same day.
The killings sparked a toughening of Prime Minister Margaret Thatcher's policy regarding Northern Ireland, starting with the calling out of retirement of former MI6 chief Maurice Oldfield in order to coordinate security in six countries.
As part of the new security regime, Walker's recommendations included the decision that any informers recruited by CID should whenever possible be passed on to Special Branch (SB), the intelligence-gathering section of the force.
"All proposals to effect arrests, other than those arising directly out of an incident, must be cleared with SB to ensure that no agents, either RUC or army, are involved," Walker wrote.
Walker went on to recommend that anyone arrested for a crime could instead become an informant instead of being charged with an offence.
READ MORE:Ex-British soldier to face manslaughter charge over Troubles checkpoint killing
According to Walker: "If an individual has made an admission and the CID officer considers he may have intelligence of value to give, SB should be allowed to question the individual on more general matters. It is important that CID should not proceed immediately to a charge whenever an admission has been obtained.
"If a CID officer decides that an individual being interviewed is not going to make an admission but may have intelligence of value, he should arrange for the interview to be taken over by SB."
Protected Species
Walker's recommendations therefore guided intelligence gathering policy by the running of these 'supergrasses,' as they become known, throughout the 1980s and 1990s, despite being responsible for a litany of serious crimes.
One such figure, Gary Haggerty, was allowed to operate freely as an informer inside the loyalist Ulster Volunteer Force. The ex-UVF man was jailed in January for six and a half years after admitting to over 505 crimes committed over a 16-year period. Crimes included five murders, five conspiracies to murder, arson, kidnap, and dozens of assaults.
There is also an ongoing investigation into IRA man Freddie Scappaticci, codenamed 'Stakeknife,' who is alleged to have been a high-placed double agent who provided information to the British Army. At the time he was in charge of an IRA unit tasked with rooting out informers, or touts, and having them executed.
The report's release coincides with the bringing to the Supreme Court the fight by the family of murdered Belfast solicitor Pat Finucane for the British government to grant an independent inquiry into Finucane's murder by loyalist gunmen in 1989.
Official inquiries into Finucane's murder found that several of the Ulster Defence Association (UDA) men involved in the murder had been paid informants for the RUC's Special Branch, however, CID officers investigating the murder were dissuaded from investigating too deeply by senior officers.
News of the Walker Report and the intel-over-arrest policy first broke in 2001, following allegations made on a Ulster Television (UTV) that Special Branch routinely blocked investigations and destroyed evidence in order to protect informers.
However, the report remained classified until a successful case was won at an information tribunal brought forward by the Belfast-based human rights organization the Committee for the Administration of Justice (CAJ).
Think your friends would be interested? Share this story!
You can share this story on social media: