Aleppo's World Cup fever: Restored Syrian city cafes overrun by football fans (VIDEO)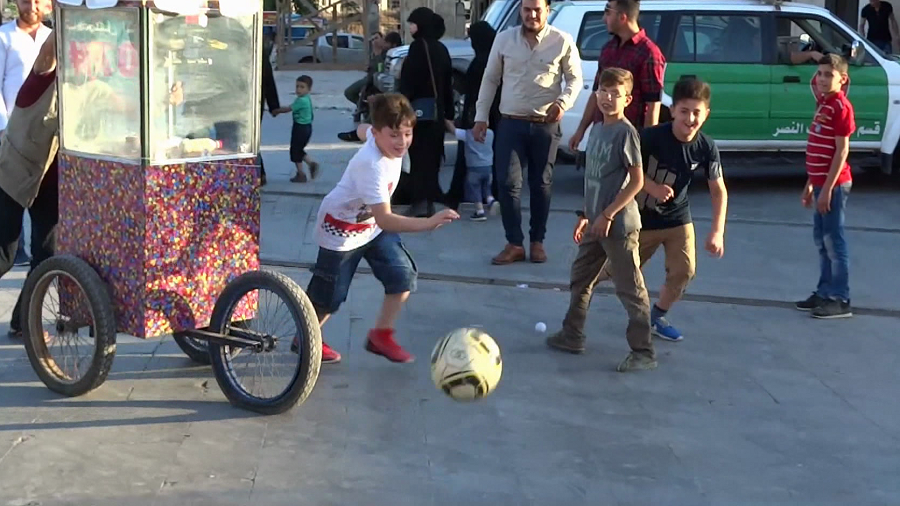 Freed from jihadist shelling and occupation, Aleppo, Syria is now home to more peaceful fanatics: World Cup fans. Footage by RT's Ruptly shows how Aleppo is humming with life, and its cafes with football drama.
For Aleppo's residents, the deep scars of war are already beginning to fade: Homes have been reconstructed, the streets are full of vendors, and the city's iconic citadel is once again open to tourists.
"The people – thank God – are better than before, they are returning," one resident told RT's Ruptly video agency. "It is true that they feel afraid when they first come, but later when they come and see how the situation here has become better than ever they want to restore their houses and inhabit them. The markets are open."
READ MORE: Mosul & Aleppo: What MSM didn't tell you happened after liberation of 2 cities (PHOTOS)
"It is an indescribable feeling," another Syrian said. "The feeling of safety in Aleppo. We return home at 2 or 3am [now]. In the past, we would go back home at 7pm when it was dark because you never knew what may happen."
But the most compelling sign that life is returning to normal in Aleppo may be the football fans filling the city's bars. Syrian football enthusiasts flocked to Aleppo's watering holes on Friday evening to watch Brazil's victory over Costa Rica – with some residents even sporting the jerseys of their favorite teams.
"The situation in Aleppo became more beautiful, the people are attending [the matches] and they are not afraid as they were before. Hopefully we will remain in such a situation and become even better," one football fan said, while another added: "Thank God it is very safe in Aleppo. I hope Brazil will win the World Cup."
The Syrian Army freed militant-occupied eastern Aleppo in December 2016, with massive evacuations of civilians – and later jihadists – negotiated and carried out with the help of Russia. The city's rapid reconstruction has gone largely ignored by the Western media, which bemoaned the "fall" of the militant stronghold to President Bashar Assad and his allies.
Residents say the situation on the ground is radically different than what is reported.
"As for the Western media, I think they were unfair to us, because they still show those barefoot children in the streets," one resident said. "They think Aleppo is still destroyed and it is lifeless. When they come they ask 'are you still alive'? We are normal guys and nothing bad is happening, it is as you can see it."
Think your friends would be interested? Share this story!
You can share this story on social media: