Ex-British soldier to face manslaughter charge over Troubles checkpoint killing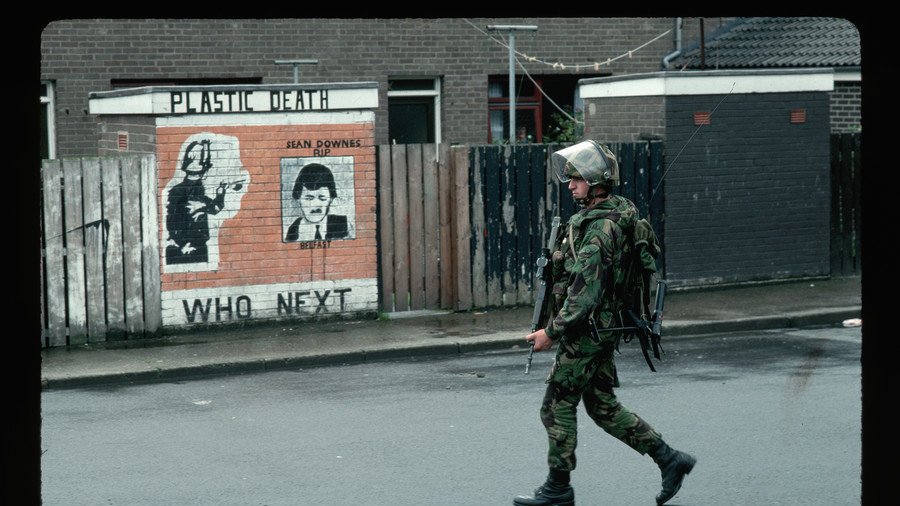 A former British soldier has been informed that he will stand trial over the death of a Catholic man in Northern Ireland in 1988.
Victim, Aidan McAnespie, 23, was shot dead after being hit by one of three bullets fired from a machine gun in Aughnacloy, County Tyrone, while he was on his way to a local Gaelic football match.
Named as David Jonathan Holden, 48, in a letter by the solicitors representing the deceased's family, the former Grenadier Guardsman is believed to be currently living in England. His first court appearance is expected to take place within the next three months.
Holden had been initially charged with manslaughter immediately after the killing, however, charges were dropped in 1990. He was subsequently fined for negligent discharge of his weapon and medically discharged from the Army, saying that having wet hands during the incident had caused his weapon to accidentally misfire.
The family of the deceased, however, have maintained that prior to his killing, McAnaspie was subject to a campaign of sustained harassment by the Army.
According to the Belfast Telegraph, Mr McAnespie's death was the subject of an Historical Enquiries Team (HET) review which reported in 2008. The British government expressed "deep regret" about the killing in 2009.
Calls by the family for a fresh investigation into the killing were taken up by the Northern Ireland Attorney General John Larkin, who in turn asked the Public Prosecution Service (PPS) for a re-examination of the killing.
In 2016, the PPS adhered to the request, saying the dropped charges would again be investigated using all available evidence, including a new ballistic report.
Upon deciding to go forward with the prosecution, a statement from the PPS said that the decision was made after "careful consideration of all the evidence currently available in this case."
"That evidence includes further expert evidence in relation to the circumstances in which the general purpose machine gun was discharged, thereby resulting in the ricochet shot which killed Mr McAnespie.
"The decision to prosecute was reached after the Test for Prosecution was applied to the available evidence in this case in accordance with the Code for Prosecutors."
Speaking through one of their solicitors, the McAnespie family said that "a crime is a crime," adding that "everyone deserves justice".
Reacting to decision to prosecute soldier who shot his brother Aidan at Co Tyrone Army checkpoint in 1988, Vincent McAnespie says:"It's truth and justice we want to get. He was just an ordinary local lad from the community that just wanted to go about his ordinary everyday life." pic.twitter.com/xXYXjHaNg5

— David Young (@DavidYoungPA) June 19, 2018
Vincent McAnespie, Aidan's brother said: "It's truth and justice we want to get. He was just an ordinary local lad from the community that just wanted to go about his ordinary everyday life."
News of the new investigation was met with blowback from a politician supporting the introduction of a Statute of Limitations for British soldiers. Tory MP Leo Docherty, in a series of tweets, called the legal pursuit of soldiers and veterans "a national disgrace," and stressed the need for legislation to be introduced to protect them "from this madness."
Like this story? Share it with a friend!
You can share this story on social media: