The 'witch-hunt' that wasn't: The actual figures behind Troubles legacy investigations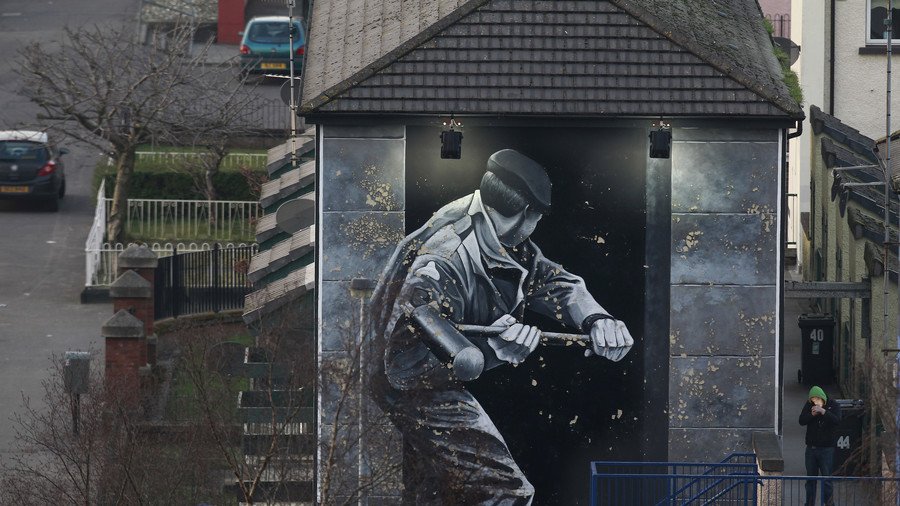 A Northern Irish human rights organization has hit out at claims that a "witch-hunt" is underway against UK armed-forces veterans who served in Northern Ireland between 1968 and 1998.
The Pat Finucane Centre, a Derry-based advocacy group, took to Twitter to counter"inaccuracies and blatant lies," published in a Daily Mail 'scoop.' The piece labeled government plans to form a new Historical Investigations Unit (HUI), tasked with investigating unsolved murders during the conflict, as a "betrayal of our soldiers...again!"
But statistics provided by the Police Service of Northern Ireland (PSNI) and originally published by the BBC prove that this is not the case.
The setting up of the HUI was agreed as part of 2014's Stormont House Agreement – overseen by both the Irish and UK governments – and will take over from the now-defunct Historical Enquiries Team (HET), which ran from 2005 to 2014.
The HUI's remit covers over 1,000 remaining unsolved killings perpetrated by both Republican and Loyalist paramilitaries, as well as by the British Army and security services who served in the province between 1968 and April 1998, upon the signing of the Good Friday Agreement.
Some senior Tory MPs argue that such investigations are skewed to unfairly target veterans.
An 'unfair situation'
Reports of a leaked cabinet spat surfaced on Wednesday, which saw Defense Secretary Gavin Williamson dismiss the proposals put forward by Northern Ireland Secretary Karen Bradley, with the former saying investigations would result in an unfair "witch-hunt" against former members of the UK's armed forces.
Williamson went on to propose an amnesty for veterans who served in Northern Ireland by use of a statute of limitations, despite the fact that such proposals had been previously been shot down by Northern Irish parties, with Unionists saying that "IRA terrorists" would ask for similar amnesties.
READ MORE: Tory civil war: Williamson accused of using cabinet leaks on NI peace process to further career
This didn't stop Theresa May at Wednesday's Prime Ministers Questions reiterating Williamson's sentiments, telling the house that "we have an unfair situation at the moment" where the only people being investigated for legacy crimes "are those in our armed forces, or those who served in law enforcement in Northern Ireland."

"Terrorists are not being investigated. Terrorists should be investigated and that is what this government wants to see," she added.
A witch hunt?
According to the PFC, newspapers such as the Daily Mail and The Sun have recently published "misleading and inaccurate information" when claiming that there is a 'witch-hunt' of former personnel. The issue has also been raised by Conservative MPs and peers (some being ex-military and referred to as the "military wing" of the Tories, according to the PFC) along with some Unionist MPs from the DUP.
Veterans groups such as the Justice of Northern Ireland Veterans have also raised concerns over their potential trial and imprisonment, often marching in support of veterans facing prosecution over legacy killings.
One such rally in September 2017 saw veterans march on Westminster in support of former British soldier Dennis Hutchings. Hutchings, 77, stands accused of the fatal shooting of an unarmed man with learning difficulties in 1974.
On Thursday, a Belfast court rejected an appeal by Hutchings that his case was an abuse of process and he will stand trial. His trial is expected to go ahead in the autumn.
'Misleading and inaccurate information'
In 2017, a BBC investigation looked to investigate claims made by the Democratic Unionist Party (DUP) that 90 percent of the legacy investigation branch of the PSNI's work was focused on killings by British Army soldiers.
In reality, this number was closer to 30 percent of the PSNI's legacy workload.
That didn't stop the Daily Mail from reporting that "although 90 percent of the killings in Northern Ireland were carried out by terrorists, inquiries so far have focused exclusively on the role of British forces."
But figures provided by the PSNI show that of the 1,625 cases completed by the HET prior to closure, the majority of the cases were attributed to Republican paramilitaries. The rest saw 536 cases carried out by Loyalists, while only 32 were related to the army. Nine remained unknown.
Of the remaining 1,118 murders currently under investigation by the PSNI, 379 have been attributed to Republicans, 270 to Loyalists, while 31 remain unknown. 283 unsolved homicides have been attributed to the security forces.
Convictions, too, fall outside the claims made of unfair treatment for veterans. Since 1998, only four former soldiers have been convicted of illegally killing civilians while on duty. All four were freed after just five years of their life sentences through the use of the "Royal Prerogative of Mercy."
Upon release, all were allowed to rejoin the British Army, a privilege allowed by no "other member of NATO and no other democratic country," according to the PFC.
Theresa May's remarks on legacy cases in Northern Ireland involving the Armed Forces are completely inaccurate & deeply worrying. My comments in the House of Commons today: pic.twitter.com/RS4diiro6V

— Conor McGinn MP (@ConorMcGinn) May 10, 2018
Replying to the prime minister's comments, Labour MP for St. Helen's North and Northern Ireland native, Conor McGinn, called her claims on unfair legacy investigations as "inaccurate and deeply worrying."
"The facts and justice dictate otherwise and all victims are entitled to those," he added.
Like this story? Share it with a friend!
You can share this story on social media: