Macron to insist Britain must pay for Calais border controls even after Brexit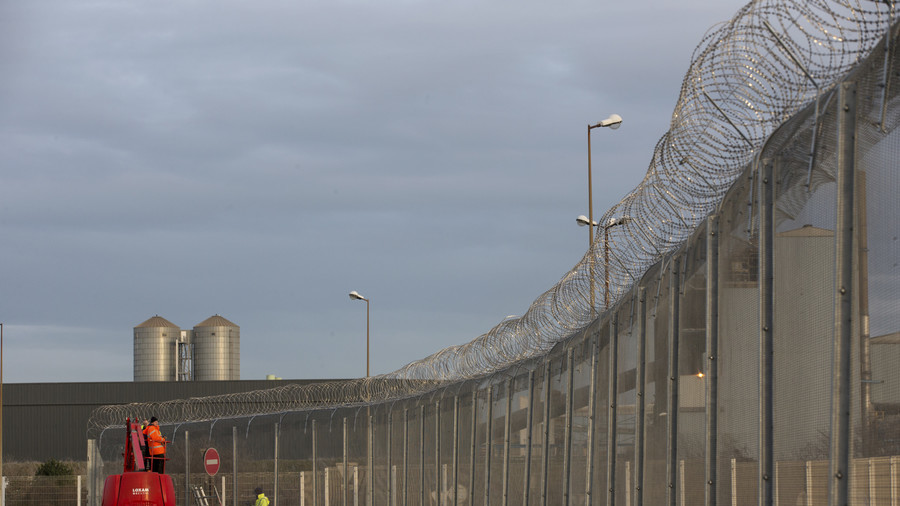 France is set to make demands on Theresa May over the British border in Calais after Brexit. Hundreds of migrants and refugees remain stranded on the French side of the English Channel.
As Britain prepares to leave the EU, French President Emmanuel Macron will insist the UK must contribute millions for the improvement of border controls in northern France. Denying the request could see the collapse of the Le Touquet treaty, which allows the two states to manage border posts in each other's territory.
Macron wants new customs posts, which the UK will be expected to fund.
However, pro-Brexit MPs have been left furious by the expected demands, and it seems Theresa May and Brexit secretary David Davis are set for trouble whichever way they turn.
The Channel is one of Europe's busiest trade routes and will be a vital link after Brexit. If an arrangement is not in place soon, businesses will suffer on both sides from Britain crashing out of the single market free trade area.
May and Macron will meet for an Anglo-French summit next month, where the border issue is likely to be raised, the Telegraph reports. France is not likely to back down on demands, as politicians and officials in northern France pile the pressure on the French government.
There is a growing humanitarian crisis on the border with families living in bushes after fleeing Iraq, Afghanistan, Syria and parts of Africa. French police have been tearing down their tents to make them leave the area, and the migrants are often left in freezing temperatures, many needing medical attention.
Despite this, leaders on both sides are mainly concerned with the trade route, ensuring business can continue on the continent and the British Isles.
Iain Duncan Smith, the former Tory leader, said: "There is no logical or legal reason why Britain should pay anything towards this. It is an absurdity.
"No other country is asking for money, not Holland, not Belgium, and Mrs. May should remind Mr. Macron that he stands to benefit from this arrangement because France sells more goods to us than we sell to them.
"Theresa May can smile sweetly at Mr. Macron and tell him there will not be a penny more than has already been agreed. We have already said how much we will pay, and if the EU wants to give some of that money to France, that's up to them."
The French, however, believe Britain should pay because of the lucrative route supplying UK businesses.
Jean-Paul Mulot, regional envoy to the UK for Hauts-de-France, which includes Calais, Boulogne and Dunkirk, believes Britain should help towards the cost, which will reach hundreds of millions of pounds.
"The goal of our region is not to steal British business," he told the Telegraph.
"On the contrary, we want British business to thrive so that we continue to enjoy a close and mutually beneficial relationship after Brexit. A disruption would affect jobs in our region.
"At the height of the migrant crisis two years ago, when cross-Channel traffic was being disrupted, Volkswagen's Oxford factory considered closing temporarily because it was running out of parts," he said.
About 800,000 car parts cross the Channel each day, and huge quantities of food too.
Mulot is part of the regional council of Hauts-de-France, a group that is leaning on Brussels to ensure the border issue remains an important part of the Brexit negotiations.
"We are not trying to impose solutions on the negotiators but to provide them with a constructive perspective," he said.
"If we solve the border issue in the Channel, and Ireland, we'll be 80 percent of the way towards an overall settlement."
You can share this story on social media: