French policeman lands in jail for slapping handcuffed migrant near Calais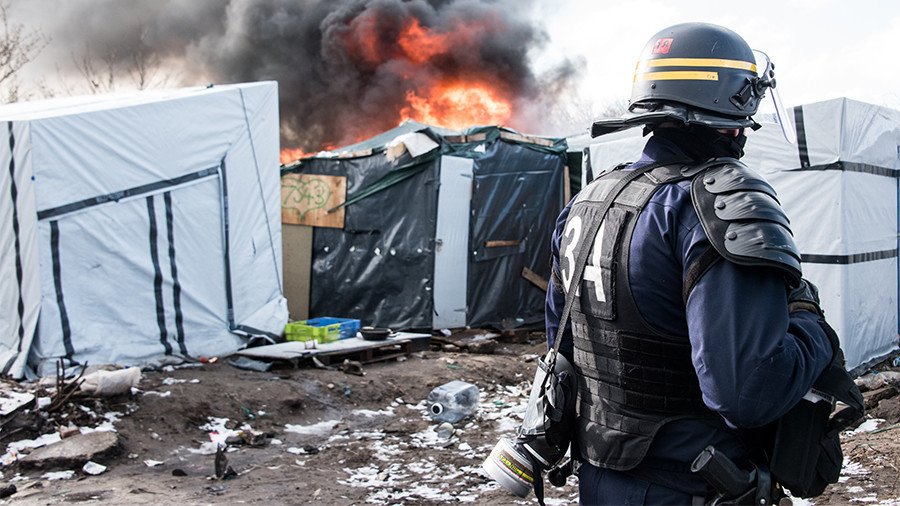 A French police officer received a six-month sentence for slapping a handcuffed migrant near Calais, the site of the infamous 'Jungle' camp. The defense maintained the officer did not intend to hit an "agitated" detainee and was merely protecting himself.
The 40-year-old law enforcement officer, who was a member of France's border police (PAF), slapped the migrant in the face just before he was due to appear before a judge at a detention center in the commune of Coquelles, 20minutes.fr reported.
The cop slapped the migrant in the presence of a court clerk who later testified against him.
The incident took place in a detention center near Calais in the summer of 2016.
The police officer's defense told the court in the northern port city of Boulogne-sur-Mer that it was not an act of aggression.

"It was an unfortunate act of protection, he did not want to slap," his lawyer Antoine Deguines told AFP. "This person was quite agitated, and was getting up all the time, so on the spur of the moment he [the officer] stretched his arm which went in the person's face," he added.

These pleas fell on deaf ears, and the officer was banned from carrying a weapon for five years and suspended from performing public office for two years.
A report conducted by the French state and released at the end of October said that it was "plausible" that police and gendarmes have abused their powers and mistreated migrants and refugees in Calais.

Human Rights Watch said in July that French authorities "routinely" pepper-spray asylum seekers in Calais, children among them, even while they are asleep. The watchdog said in a report that officers also occasionally use the spray on migrants' food and deploy batons against minors.
The 40-page report, entitled "'Like Living in Hell': Police Abuses Against Child and Adult Migrants in Calais," was based on interviews with over 60 asylum seekers and other migrants who live around the port of Calais and nearby Dunkirk, as well as interviews with numerous aid workers.
"It is reprehensible for police to use pepper spray on children and adults who are asleep or peacefully going about their day," Bénédicte Jeannerod, Human Rights Watch's France director, said in a statement. "When police destroy or take migrants' blankets, shoes, or food, they demean their profession as well as harm people whose rights they've sworn to uphold."
HRW concluded that such behavior by police is at least "partly driven by a desire to keep down migrant numbers."
The report came after the infamous Calais 'Jungle' camp was evacuated and bulldozed in October 2016, with over 6,000 of its residents being sent to various housing facilities across France.
Following the camp's closure, many of those displaced, hoping to cross the English Channel to find asylum in the UK, decided to relocate to Paris.
French President Emmanuel Macron for his part warned last month that all undocumented migrants convicted of a crime would be deported from the country. "We will take the most severe measures, we will do what we must do," he said in a televised interview, as cited by AFP. "We're taking care of the France where things aren't going well," the French leader added.
Macron's remarks came two weeks after a 29-year-old Tunisian man fatally stabbed two women at the Saint-Charles train station in Marseille.
You can share this story on social media: