Outsourcing the problem: UK to pay France millions to block new wave of Calais migrants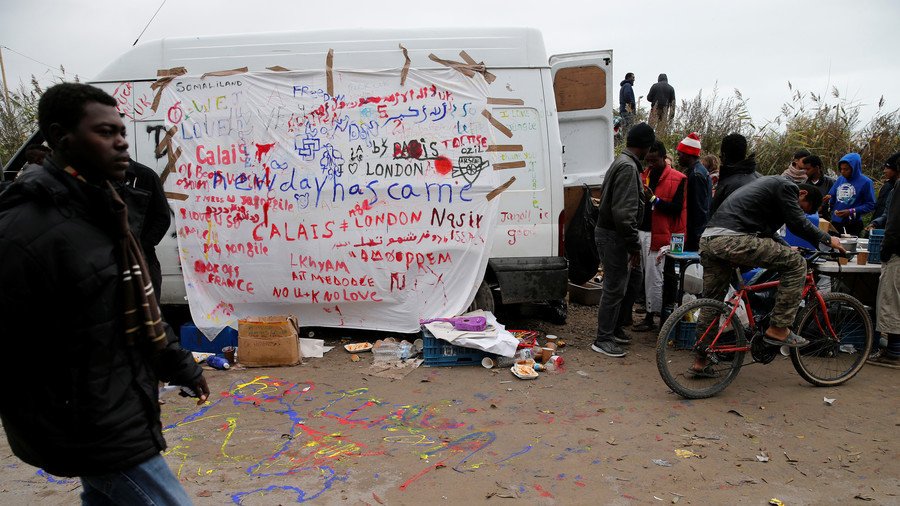 Britain will give France extra cash to bolster the UK border at Calais after a surge in attempted illegal crossings. Migrants and refugees spend their days huddled under bridges around the French port, hoping to smuggle themselves into the UK.
Sources in France told The Times that ministers are looking to spend £80 million ($106 million) on a renewed security contract for the Eurotunnel terminals at Calais, Dunkirk and Coquelles. Britain has already paid a reported £124 million ($164 million) to boost security on the other side of the channel since 2015, as the migration crisis across Europe exploded.
Evidence has emerged of a rise in the number of smuggling attempts in recent weeks as winter weather conditions worsen. Over the last few months, there has been a steady increase in the number of arrivals to France, as migrants wait to be smuggled over the border.
While some pay crime rings to help them across the border, the majority – mostly teenage boys – wait for the opportunity to sneak inside goods vehicles bound for the UK.
Home Secretary Amber Rudd and her French counterpart, Gerard Collomb, met last week to discuss the issues of terrorism, illegal migration and border security. In a joint statement, the pair hinted at the cash boost.
"The ministers discussed the situation in northern France and the challenges linked to illegal migration," it said.
"The ministers acknowledged the importance of UK support in reinforcing the security arrangements in coastal cities of northern France and the need for continued efforts to manage jointly the shared border between the UK and France."
With as many as 100 new arrivals every week, and fresh determination among migrants to reach the UK as weather worsens, the number of crossing attempts is rising. The situation is extremely dangerous. Young men and women have been killed after being struck by trucks on Calais roads.
The move to bolster border security comes as French police are once again accused of brutality and attacks on the migrant communities. Every day Syrians, Afghans and Iraqi migrants say they have their tents destroyed and are frequently threatened, hit and set upon by dogs.
Many have been given temporary status in Italy or Greece but are unable to find work and cannot afford a decent living, so they are attempting to reach Britain, where many speak the language and have already have family based there.
A Home Office spokesman said: "We work closely with the French authorities at all levels to reduce migrant pressures and target criminal gangs involved in people trafficking, both in northern France and farther afield in source and transit countries."
You can share this story on social media: