Sinking feeling? UK's brand new £3.1bn aircraft carrier has sprung a leak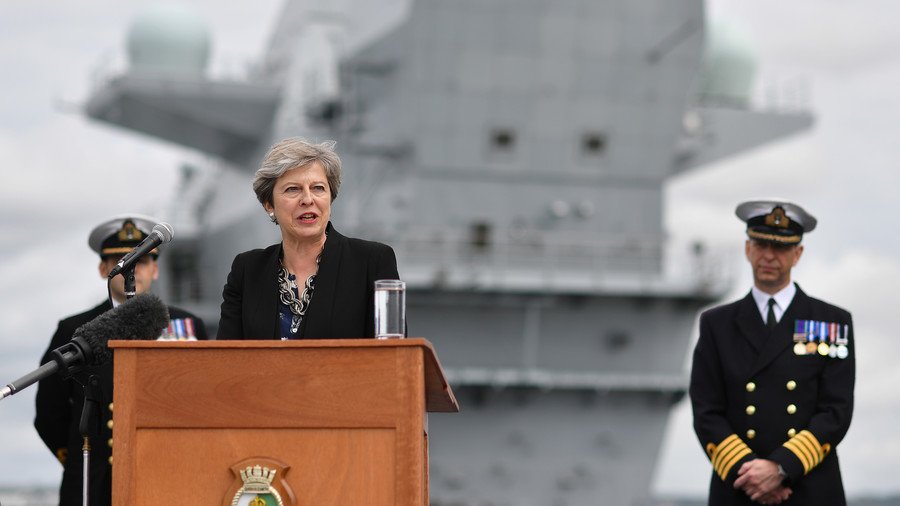 Britain's future flagship, the aircraft carrier HMS Queen Elizabeth, has sprung a leak. The ship, which will eventually be loaded with a fleet of F-35 fighter jets, is reportedly taking on 200 liters of seawater every hour.
As a result, the carrier may need to be taken back into dry dock. It currently resides in Portsmouth.
The leak is thought to be caused by a faulty seal, which insiders blame on Aircraft Carrier Alliance (ACA), the partnership that built the vessel. The 'significant' fault on the £3.1 billion ($4.1 billion) carrier was discovered during sea trials when an issue with a propeller shaft was spotted.
Queen Elizabeth herself commissioned the warship earlier this month, in a huge ceremony in Portsmouth, also attended by Prime Minister Theresa May.
The ACA, which will foot the bill for the repairs, played down the damage. A spokesman told the Sun: "It does not prevent her from sailing again and her sea trials program will not be affected. It is normal practice for a volume of work and defect resolution to continue following vessel acceptance."
BBC defense correspondent Jonathan Beale said the problem was "highly embarrassing" for the navy.
A Royal Navy spokesman said: "An issue with a shaft seal has been identified during HMS Queen Elizabeth's sea trials; this is scheduled for repair while she is alongside at Portsmouth. It does not prevent her from sailing again and her sea trials programme will not be affected."
Queen Elizabeth is 919ft long with a flight deck of four acres – space for three football pitches. When she comes into service she will have a mega 1,600 man crew and around 40 F-35B jets and Crowsnest helicopters.
However, the jets themselves, which will revolutionize air combat, have experienced a host of problems, significantly bumping up the cost of the order.
As well as the drop in the value of the pound, the Ministry of Defence (MoD) is no longer able to say exactly how much it will pay for the jets, nor how many Britain will order. It is currently stated there will be a £9.1 billion order for 48 from US giant Lockheed Martin, but this is liable to change.
However, the embattled planes are costing a huge amount of cash while the MoD looks to save £30 billion ($40 billion) in ten years.
Aviation expert Pierre Sprey, says the aircraft have an "unbelievably abnormal" amount of issues, including computing systems that are vulnerable to cyberattack and communication issues between the planes and ships.
You can share this story on social media: