Queen honors British Navy's new £3bn warship...despite government slashing military funding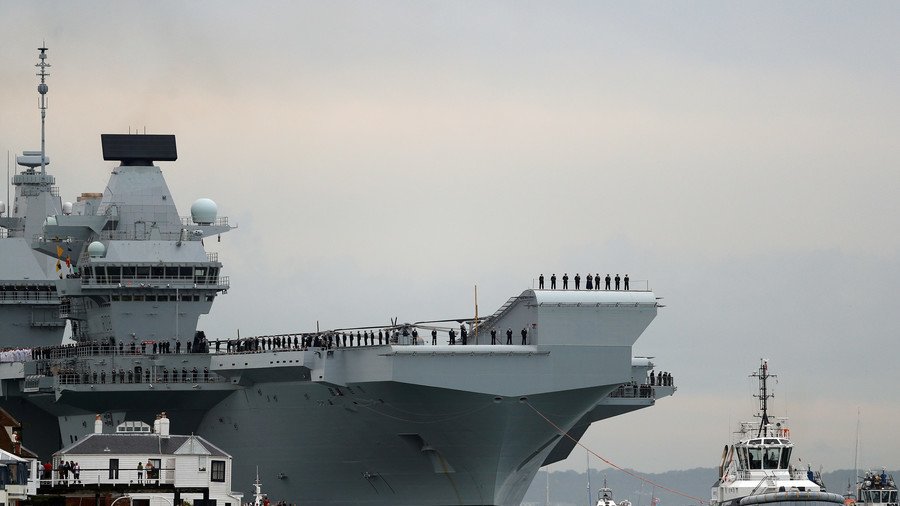 The Queen will watch her £3.1 billion ($4.1 billion) namesake ship be unveiled today as the Royal Navy raises the White Ensign over its biggest and most expensive vessel. The British monarch is attending the commissioning of a new aircraft carrier, HMS 'Queen Elizabeth,' sister ship of the HMS 'Prince of Wales.'
The pair of ships were originally estimated to cost the navy £3.5 billion ($4.7 billion) but the price tag has since escalated to £6.2 billion ($8.25 billion). Though the ceremony on Thursday will be full of symbolic pomp and glory, there is a growing problem looming on the horizon.
While Queen Elizabeth II, Princess Anne, Prime Minister Theresa May and First Sea Lord Admiral Sir Philip Jones will attend the ceremony, officials in the Department of Defense are attempting to plug a £30 billion ($40 billion) black hole in its finances.
Cuts are planned for the UK's three pillars of defense: the army, navy and Royal Air Force. Experts are warning the government that the UK will not be able to defend itself with the 50,000 troops proposed – well below the 82,000 target once set by former defense minister Michael Fallon.
Amphibious ships HMS 'Bulwark' and 'Albion' are rumored to be for the chop, meaning the UK will lose its ability to carry heavy artillery easily from sea to land, potentially risking soldiers on foreign deployment.
HMS 'Queen Elizabeth' successfully completed her sea trials but is not expected to deploy until 2021, after trials have been completed with F-35 fighter jets, though it is currently unknown how many of the problematic £100-million ($133.3-million) jets the vessel will carry.
The vessel has been beset with problems including major security concerns.
It was reportedly using outdated Windows XP software, which has not been reviewed by Microsoft since 2014, and could therefore be an easy target for hackers.
The new generation F-35 jets will be carried on the ship, but they are yet to arrive meaning it cannot defend itself. The warplanes have been beset by issues for years, including major problems during flight trials in the US.
Aviation expert Pierre Sprey, says the aircraft have an "unbelievably abnormal" amount of issues, including computing systems that are vulnerable to cyberattack and communication issues between the planes and ships.
The British Queen will board the ship for the second time in Portsmouth on Thursday, three years after she first broke a bottle of whiskey on its hull. The vessel has a 280-meter flight deck and boasts a crew of around 700.
"The first sailing from Rosyth was only nine months ago, we have come a long way," said Captain Jerry Kyd.
"The first entry into Portsmouth was in the summer and here we are today accepting the ship into Her Majesty's fleet formally. So, it is right at the top, it is the latest milestone, many more to come, but hugely exciting and a very proud day."
At the ceremony, the commissioning warrant will be read, and the Blue Ensign will be replaced with the White Ensign to mark the formal handover as the HMS 'Queen Elizabeth' officially becomes a war ship. The flag will be raised by 20-year-old Able Seaman Ellie Smith from Hull.
You can share this story on social media: