Trident nuclear submarine replacement plans 'unachievable' – spending watchdog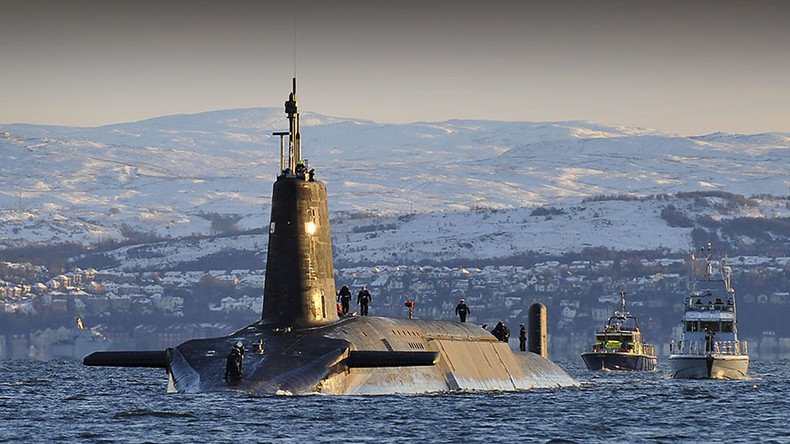 Multi-billion pound projects to upgrade and renew Britain's nuclear arsenal have been branded "unachievable" by the Infrastructure and Projects Authority (IPA) in its report to the Treasury and Cabinet Office.
The watchdog's report, which was picked up by the Ferret investigative website, found that major projects relating to the nuclear deterrent are poorly managed, over budget, and subject to technical difficulties.
Those projects are the £1.7 billion (US$2.2bn) nuclear reactor manufacturing program and the program to build four nuclear-armed and seven nuclear-powered submarines at a cost of £31 billion and £9 billion respectively.
The reactor manufacturing project, based at Rolls Royce in Derby, picked up the worst possible IPA rating after being marked as "red," with the author's warning that "successful delivery of the project appears to be unachievable."
"There are major issues with project definition, schedule, budget, quality and/or benefits delivery, which at this stage do not appear to be manageable or resolvable.
"The project may need re-scoping and/or its overall viability reassessed," the investigators added, warning that reactor building was £250,000 million ($325mn) over budget.
The submarine building project, which has so far delivered three nuclear-powered Astute–class warships, has been rated "amber/red" for the third successive year.
The IPA report said: "Successful delivery of the project is in doubt, with major risks or issues apparent in a number of key areas.
"Urgent action is needed to address these problems and/or assess whether resolution is feasible."
The study found that "overall affordability" was the main impediment to the submarine building program.
As the submarines are bound for the UK's nuclear base near Faslane, Scotland, the findings quickly attracted comment from the Scottish National Party (SNP) and anti-nuclear campaigners north of the border.
"A billion here – a billion there – to add to the bill for these weapons of mass destruction," SNP defense spokesperson Stewart McDonald MP told the Ferret.
"The Westminster obsession with Trident is already squeezing conventional defense expenditure as everything else is sacrificed for these redundant, eye-wateringly expensive weapons. The Tories need to get a grip on costs if they insist on Trident renewal."
Arthur West, the chairman of the Scottish Campaign for Nuclear Disarmament, told the website: "The Trident program in particular continues to be a shambles from a cost point of view."
The Ministry of Defense defended the poor ratings, saying they "reflect the complexity and scale of delivering the most advanced submarines ever commissioned by the Royal Navy, the ultimate guarantee of our national security."
You can share this story on social media: