UK to ban sale of acid to under-18s amid 'epidemic' of attacks
The Conservatives have pledged to ban the sale of acid to under-18s in a bid to crack down on the spike in the number of horrific attacks across the country.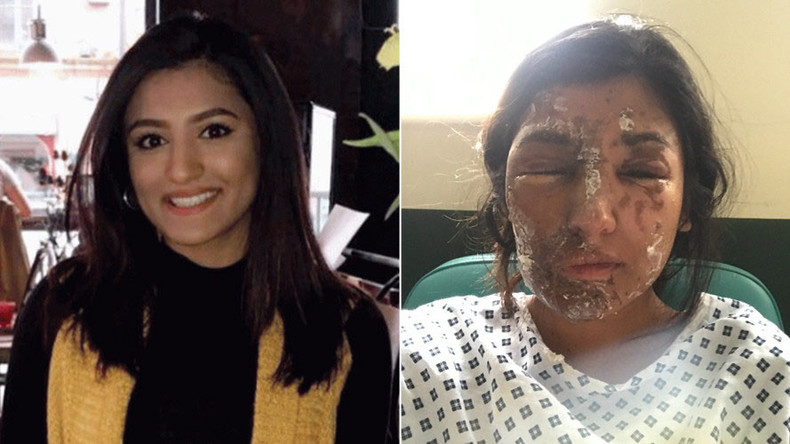 Announcing the new regulations during the Conservative Party's annual conference on Tuesday, Home Secretary Amber Rudd also said it would be illegal for anyone to carry acids unless they had a "good reason."
"Acid attacks are absolutely revolting," Rudd said.
"You have all seen the pictures of victims that never fully recover. Endless surgeries. Lives ruined.
"So today, I am also announcing a new offense to prevent the sale of acids to under-18s," the home secretary said.
She said there would also be new restrictions on the public sale of sulphuric acid, a component in the production of the "mother of Satan" - the explosive believed to have been used in the terrorist attacks on the Manchester Arena and Parsons Green tube station.
The home secretary set out the new restrictions as figures reveal the number of such incidents in London last year totaled 458, almost double the previous year.
Up to 83 incidents were recorded by the Metropolitan Police this year alone.
Here are some of the most prominent attacks in recent months.
1. 'Skin peeled off'
Two men were reported to have been left "screaming in agony" after being attacked with a corrosive substance on Roman Road, east London, at the end of July.
According to witnesses, the victims, both believed to be in their late teens, had their skin "peeled off" by the acid, while the substance also "burnt through their clothes," according to Metropolitan Police Constable Bennett.
2. 'My pain is unbearable'
Another atrocious case saw two cousins, both Muslims, attacked with sulphuric acid in June while sitting in their car in London.
Aspiring model and business student Resham Khan was attacked on the day of her 21st birthday while stuck in traffic with her cousin Jameel Muhktar, 37, who was also seriously injured.
In a letter penned to the Metropolitan Police calling for the force to condemn acid attacks, Khan said: "My plans are in pieces; my pain is unbearable, and I write this letter in hospital whilst I patiently wait for the return of my face."
Three days after the incident, which was investigated by the Met as a hate crime, Khan, who since her ordeal has been campaigning for tougher laws on the crime, also tweeted: "I'm devastated. I keep wondering if my life will ever be the same."
3. Mass attack
Most recently, up to six people were injured in an apparent mass acid attack at Stratford shopping center, east London, on September 23.
The Met said a "group of males" reportedly sprayed "what is believed to be a noxious substance," injuring people in a number of locations.
4. 90-min rampage
That came after two men on a moped targeted five victims across London in a 90-minute rampage, with one of the victims reportedly suffering "life-changing" injuries, according to the Met.
The assaults, which happened in mid-July, are believed to have been linked, while two victims also had their moped stolen, the force added.
5. Deliveroo drivers targeted?
Footage also recently emerged at the beginning of last month of a delivery man, aged 21, having acid thrown at him while sitting in his car.
The video shows a hooded man on a bicycle approaching the victim and throwing acid at him through the driver's window.
Police said the victim was entering details in his navigator, and was attacked with a chemical by the smell of ammonia after saying he had no money.
In August, delivery service Deliveroo said some of its drivers in London were so afraid that they would be targeted in acid attacks that they were turning down work.
You can share this story on social media: