Acid attack victims 'screamed in agony' while skin 'peeled off' - witnesses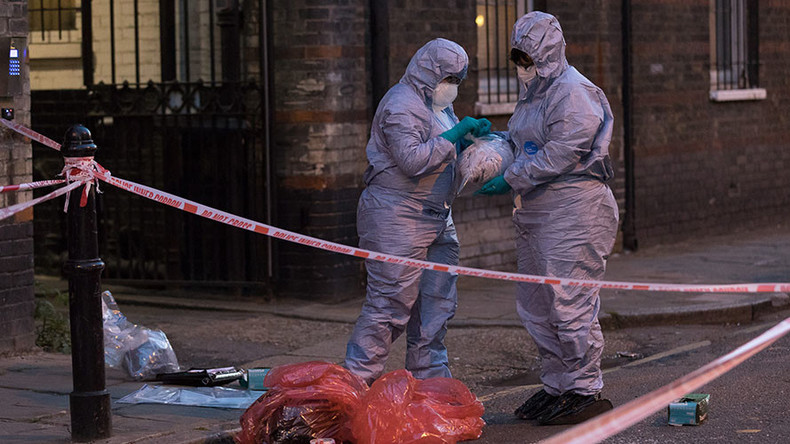 Two men were left "screaming in agony" after acid was thrown in their faces in East London on Tuesday night, according to witnesses who said the corrosive substance "peeled off" their facial skin and melted their clothes.
The victims, thought to be in their late teens, flagged down police in Bethnal Green at around 7pm local time after having an unknown liquid thrown at them on Roman Road.
Paramedics were called and the men were taken to hospital for treatment. Firefighters at the scene also used their hoses to douse the men down.
Scotland Yard said the incident is being treated as a "suspected noxious substance attack."
Videos of the incident on social media show a topless man pouring water over his face and torso as paramedics tend to him. Another man is seen sitting on the pavement while receiving medical attention.
Photos show what is believed to be one of the men's jackets, with holes melted through the fabric.
PC Bennett, from Bethnal Green police station, said the color of the victims' faces "had changed from where the bleach had been thrown over them."
He told the Daily Mail at the scene: "There was a discoloring on the faces. They [the alleged victims] weren't saying too much. It is believed that they do know who the suspect is.
"We can see it's been burnt through their clothing."
No arrests have been made and enquiries are ongoing. The scene remains cordoned off. The Metropolitan Police said the injuries were not life threatening.
The incident is the latest in a shocking spate of attacks in the capital in recent weeks.
Acid was used in five attacks across London earlier this month. One victim was reportedly left with life-changing injuries after moped riders targeted takeaway delivery drivers in the north and east of the city. All five attacks, which police believe are linked, took place within the space of 72 minutes.
Last month, cousins Resham Khan and Jameel Mukhtar were injured when a man threw acid through his car window in Beckton, East London, on the night of Khan's 21st birthday.
Another mass acid attack occurred in London earlier this year. On Easter Monday, acid was sprayed at a crowded east London night club, leaving two people partially blinded and others disfigured.
Since 2010, there have been more than 1,900 reports of attacks involving corrosive fluids in London. They were used in 458 crimes last year, compared to 261 in 2015, according to Met Police figures.
UK Home Secretary Amber Rudd has suggested that acid attacks may soon carry life sentences.
Currently, there is no penalty for being caught in possession of acid-based chemicals.