3 acid attacks reported every week in London, LBC finds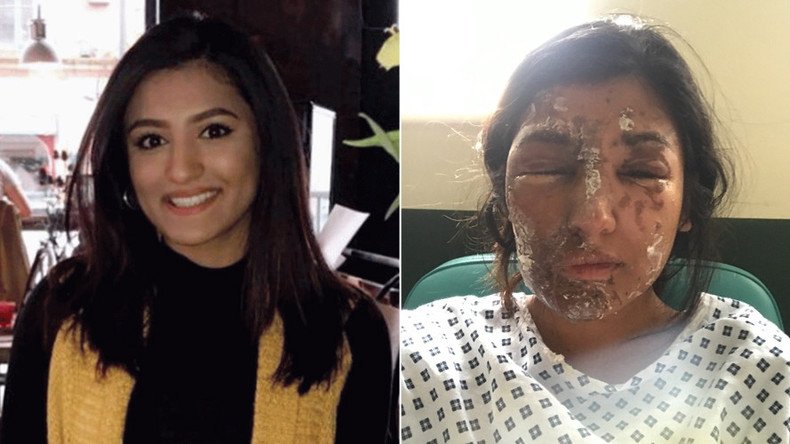 London witnesses up to three acid attacks every week, LBC has found, saying the Metropolitan Police recorded up to 83 incidents just this year.
The report from the London based radio station comes after aspiring model and business student Resham Khan was attacked last month while sitting in her car with her cousin Jameel Muhktar.
The incident, which happened on the day Khan turned 21, saw the two attacked with sulphuric acid while stuck in traffic.
The Metropolitan Police is investigating the attack as a hate crime, and has just released new pictures of suspected attacker John Tomlin, 24.
Three days after the attack, Khan, who is set to receive £30,000 (US$38,500) in donations after a fundraising campaign was launched for her following the horrifying attack, said on Twitter: "I'm devastated. I keep wondering if my life will ever be the same."
Another acid attack victim is now calling for the law to treat acid attacks as it does knife attacks.
Imran Khan had acid squirted on his face as he was delivering pizza in Dagenham, east London, last November.
He told LBC that the law fails to do enough to punish those responsible.
"I actually ID-ed the guy and he got arrested. But the police took no further action as there was 'insufficient evidence'," he told LBC.
"I've seen him today. When I went to go to the shops, he was hanging around in the same place. He grins at me. He's literally got away with it.
"If someone wants to stab you, they've got to come close to you," he added.
"But with acid, they could be standing 2 meters away and just squash the bottle.
"It will do the same amount of damage."

Up to 300,000 people have signed a petition to make it unlawful to buy acid without a license.
Sarmad Ismail, who started the petition, outlined how easy it is to buy acid online and said: "You put sulphuric acid into Google and the results that come up are 'Concentrated acid neutraliser', '2.5l or Sulphuric acid 96%', which is £11.95 and will be delivered to your door.
"And what comes to your door can completely destroy a life.
"There should be checks in place, especially on these websites. There should be licencing."
He agreed with Khan's claim that acid attacks are just as bad as knife attacks, telling LBC reporter Rachael Venables: "It's just as bad as carrying a knife around because if you spray that substance on someone's face, it will cause lasting damage for years to come."
Scores of protesters gathered in east London on Thursday to protest over the recent string of acid attacks in the capital, as well as the growing Islamophobia.
Hate crimes in London have increased fivefold following the terrorist attack on London Bridge and Borough Market, according to figures released by the city's mayor, Sadiq Khan.
You can share this story on social media: