Man jailed for slapping Muslim teenager with bacon (VIDEO)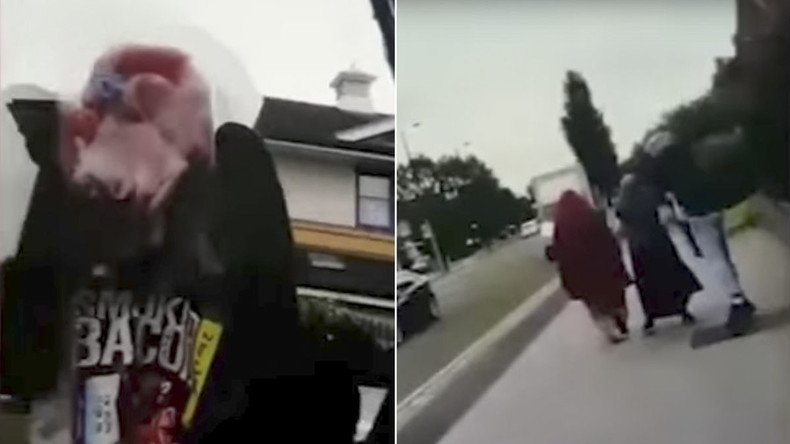 A man has been jailed for six months after slapping a Muslim teenager across the face with an open packet of bacon.
Alex Chivers, 36, can be seen covering himself with the bacon before he runs up to the girl, who was walking along a road in Enfield, north London, with her mother, and striking her across the face with the pork product, which is considered haram by the Islamic faith.
In the attack, Chivers also called the women "ISIL scum," in reference to the Islamic State terrorist group (IS, formerly ISIS/ISIL), and told them they "deserve" it.
The Metropolitan Police said although the teenager was not injured, she was upset by the incident.
"The victim was out with her mother and getting on with her day when Chivers abused her and then set upon her with something he knew would both upset and offend her.
"We know other people were present during this attack, including an associate of Chivers' who filmed the incident," the police said in a statement. Enquiries are ongoing.
Chivers, who lives 2 miles away from the site of the attack in Waltham Cross, pleaded guilty to one count of racially or religiously aggravated common assault, and one count of causing racially or religiously aggravated alarm or distress.
He was handed a 26-week prison sentence at Highbury Corner Magistrates' Court for the assault and a 12-week sentence for a public offence order, to run concurrently.
Chivers must pay a £115 (US$150) victim surcharge and complete a 12-month supervision order once released on bail.
The Met police said hate crimes of this kind remain "largely underreported." The force said it "stands together with policing partners, colleagues and groups to investigate all hate crime allegations, support victims and their families, and bring perpetrators to justice."
Last week, a separate attack saw two Muslim cousins scarred for life after a man flung acid at them through their car window in the east London borough of Newham.
One of the victims, Jameel Muhktar, told Channel 4 News it was "definitely a hate crime."
"Maybe he's got it in for Muslims because of the things that have been going on lately," said Muhktar, referring to the recent spate of IS-inspired terrorist attacks to hit Manchester and London.
"I don't know if people are trying to retaliate. We're innocent people. We didn't deserve that."
According to figures released by London Mayor Sadiq Khan, anti-Muslim attacks in the capital have risen fivefold since the assaults on London Bridge and Borough Market.
You can share this story on social media: