Conservatives in chaos: Tory rebels want Theresa May gone by summer 2019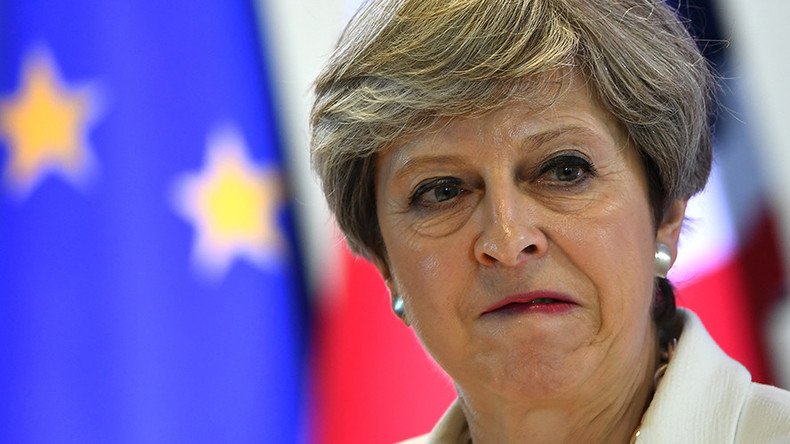 Prime Minister Theresa May is coming under increased pressure from her own party, as her backbenchers are demanding a timeline for her departure from Number 10.
Tory rebels reportedly held a secret meeting in Parliament last week to consider the Conservative Party's future, as the prime minister's position looks increasingly untenable.
Meanwhile, two senior members of May's Cabinet defied the whip over public sector pay and called for the one percent cap to be lifted.
The PM's failure to boost (or indeed maintain) her party's slim majority in the House of Commons in the June 8 election means a small number of dissenters could set the government into chaos.
According to the Telegraph, senior Conservatives have called on May to quit by the summer of 2019, when the Brexit process should be completed.
It is believed the backbenches want a timetable from the premier for her departure from Downing Street, as well as plans for the handover to her successor.
May has faced sharp criticism from within her own ranks since June's electoral disaster. Just over a week after the snap election, it was reported that around a dozen MPs were ready to call for May's resignation, submitting letters to the powerful 1922 Committee of backbench MPs.
As the PM frantically lashed together support for her minority government, she allegedly called on her predecessor, David Cameron, to support the Conservatives' deal with the Northern Irish Democratic Unionist Party (DUP).
On Sunday, just a day before the DUP deal was formally sealed, several of May's MPs were ordered to come forward with any information they might have on rebellious colleagues and potential leadership challenges.
"We were told to hand over all intelligence. It was clear they were talking about leadership moves and possible rebellions," an unnamed MP told the Sunday Telegraph.
Rumors insinuating that frontbenchers like Foreign Secretary Boris Johnson were preparing a coup were quickly quashed, with the former London mayor himself branding them as "tripe."
... this gvt feels less functional than any I can remember, held together not by leadership but Tory desire not to have an election

— Sam Coates Times (@SamCoatesTimes) 29 June 2017
in office but not in power...

— Fraser Nelson (@FraserNelson) 29 June 2017
May's longtime ally and Brexit Secretary, David Davis, also chimed in, saying a leadership contest at this point would be "self-indulgent."
Nonetheless, opposition to May's political agenda has been mounting, including from her own Cabinet.
On Monday, Johnson joined forces with Environment Secretary Michael Gove in calling for the cap on public sector pay raises to be scrapped. A vote on the one percent cap was held in Parliament last week, with the Tories unanimously voting to maintain it. With the support of the DUP, the vote went through with a majority of 14.
A defeat for the government on this vote would have been highly damaging, so the partisan way in which the parties voted perhaps does not reflect their true stances on the issue. It also conceals the rivalries, divisions, and rebellious talk beneath the surface.
Gove had already sparred with Chancellor Philip Hammond on Monday over the need to raise taxes to balance the books. Both Johnson and Gove seem to believe that no taxes should be lifted to finance a boost to the earnings of 5.1 million public sector workers. Hammond faces the challenge of ending austerity without bankrupting the country.
Downing Street suggested it will take any decisions regarding pay on a "case by case" basis.
"While we understand the sacrifice that has been made, we must also ensure we continue to protect jobs and deal with our debts," a Number 10 source told journalists.
A change of heart on the public sector pay cap would not be the first time the tottering administration U-turned on its manifesto. This weekend it was reported that May was considering scrapping university fees to appeal to younger voters.
A "national debate may well be needed on this huge issue," said May's first secretary of state, Damian Green.
A Downing Street spokesman confirmed on Monday afternoon the PM will be addressing the pay cap at some point "this year."
"We will be responding later this year. Some have reported to us and we've accepted the findings, others we will respond to in due course, but I think you can expect them ... in and around the Autumn," he said, according to Sky News.
You can share this story on social media: