'Shape up or ship out!' It's make-or-break week for PM Theresa May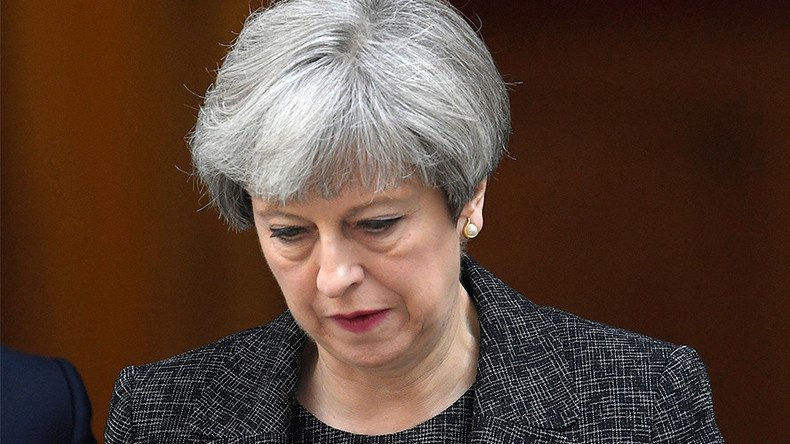 With history conspiring against her, and forces inside and outside her own party baying for Theresa May's downfall, RT looks at the prime minister's troubles and examines her prospects of clinging to power beyond Friday.
May's tenure as PM has lasted less than a year and has already been rocked by a disastrous election that cost the Tories their majority.
She has also been hit hard by questions over the impact of austerity on police numbers after a spate of terrorist attacks in London and Manchester.
More recently critics have slammed her "inhuman" response to the Grenfell Tower tragedy, while her entire premiership has been marked by questions about her ability to lead Brexit negotiations.
Her current attempts to prop up a minority government by thrashing out a confidence and supply deal with Northern Ireland's hard-right Democratic Unionist Party (DUP) have been fraught, with the delayed Queen's Speech set to take place on Wednesday.
Hung Parliament
May and political pundits had expected a Tory landslide in the June 8 election, promising to give the PM the strong executive hand she so wanted to pursue her hard-Brexit ambitions.
A mixture of factors, including a high youth turnout, put paid to their hopes, as Labour unexpectedly surged, taking traditional Tory seats like Kensington and Chelsea, and Canterbury.
May's key commitments to a hard Brexit and ongoing austerity – and her oft-repeated pledge to give the UK strength and stability – are now seen as having been shattered.
Policing and terrorism
Over the last four months, the Prime Minister has been forced to respond to a spate of terror attacks, on Westminster Bridge and Parliament, on Manchester Arena, London Bridge and Borough Market and against Muslim worshippers in Finsbury.
However, May's commitment to security was suddenly juxtaposed with the rapid reduction in the number of police officers. Some 20,000 were let go of without being replaced during her six years as home secretary.
Footage of her blasting police officer's concerns as "crying wolf" in 2015 was quickly and virally revisited in the aftermath of the attacks.
'Inhuman'
Following the Grenfell Tower fire, which killed at least 79 people, May's first visit to the site of the tragedy was met with outrage after she failed to speak to victims and locals and opted instead to talk with emergency services personnel away from the crowds.
Under massive media pressure, she returned to visit a church which had become an impromptu aid station.
She spoke to a limited number of locals and was then filmed briskly leaving, accompanied by guards, and entering a waiting vehicle which sped away as assembled residents shouted "coward."
Her behavior was branded "inhuman" on social media after a stumbling BBC interview in the wake of the second visit.
DUP
The hung Parliament delivered in June 8's election saw May reach out to the DUP, led by Arlene Foster, in order to utilize its 10 MPs for a confidence-and-supply deal.
Many felt that kowtowing to the DUP, which has a history of links to Loyalist paramilitary groups and are well known for their anti-abortion and anti-LGBT views, made a mockery of Tory claims throughout the election that Labour chief Jeremy Corbyn was a closet terrorist sympathizer.
The attempt at forging a deal was quickly attacked by opponents as having the potential to re-open old wounds by openly backing Northern Ireland's Protestant community over the Catholics.
Sinn Fein President Gerry Adams complained that allowing the DUP into government would tear up the Good Friday agreement forged under New Labour in 1998, which ended the worst of the violence in Northern Ireland.
Keep your enemies close…
May is not merely beset by Labour, the Police Federation or angry West London residents.
Some of her closest allies in the Conservative Party have started to show their teeth.
In a BBC interview on Sunday, Chancellor Philip Hammond, a long-time ally, refused to speculate on how long May might remain at No.10.
"I think what the country needs now is a period of calm while we get on with the job at hand," he said.
The Sunday Times reported that plans are afoot to hold May to a 10-day limit within which she must make progress.
If not met there are reportedly dozens of Tory MPs ready to write letters withdrawing confidence in their leader to the influential 1922 Committee of backbench MPs.
"She had better stop feeling sorry for herself, pull up her socks and start to lead — and if she can't do that she should go. Shape up or ship out," one minister told the Times.
You can share this story on social media: