Theresa May will not last much longer as British PM, Citigroup warns clients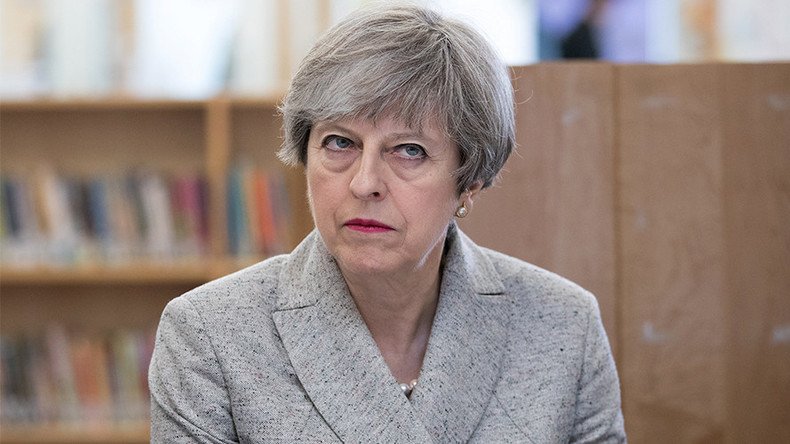 Clients should brace themselves for the downfall of UK Prime Minister Theresa May, as her weakened minority government is unlikely to hobble along beyond a few months, top investment bank Citigroup warns.
Citigroup told its clients the PM is likely to resign within a matter of months after she lost the Tories their slim parliamentary majority in a snap election on June 8.
The Tory leader had called the early election to bolster her position in the House of Commons, giving her the "strong and stable leadership" needed to dictate Britain's negotiating position as it withdraws from the European Union.
It turned out to be a disastrous miscalculation, as May not only failed to secure the overwhelming majority pundits had predicted, but also lost the 17-seat working majority she had inherited from her predecessor, David Cameron.
Citigroup told its clients that May's minority government is "unsustainable" as it leaves her open to opposition from both hard-line Brexiteers and pro-EU Remainers.
In a note to its clients, the investment bank called into question the viability of the PM's deal with Northern Irish Democratic Unionist Party (DUP).
May struck a £1 billion ($1.28 billion) deal with the socially conservative group to guarantee enough support in the Commons to get major legislation and budgets through Parliament. However, Citigroup said the deal is "not comfortable enough for crunch votes."
It also claimed the Conservative leader, whose popularity among voters has collapsed since the election, could face "harsh backlash in the anti-EU British media," especially if the UK is forced to pay a €100 billion withdrawal bill.
According to chief political analyst Tina Fordham, because of the "numerous opportunities for parliamentary rebellion," May's days as a leader seem to be numbered.
"In our view, May's premiership is not sustainable beyond a few months, perhaps a year at most, and will be under pressure in the face of contentious parliamentary votes from the very beginning," Fordham said.
It is not the first time bankers in the City, London's financial epicenter, have banked on May's demise.
A day after the election on June 8, Malcolm Barr, an economist at JP Morgan, said the political situation could hinder efforts for a smooth Brexit.
"Having called the election and then lost seats, May's hold on the leadership is likely to be tenuous at best.
"Theresa May may seek to remain as PM and leader of the Conservative Party for now.
"It is extremely difficult, however, to see how a stable and coherent policy toward Brexit can be constructed and implemented given this political backdrop," Barr told CityAM.
"Our expectation is that Theresa May's future will be in doubt, potentially sparking a search for a new leader," another economist at UBS Wealth Management said.
Grant Lewis, head of research Daiwa Capital Markets, also suggested the government is unlikely be headed by May for much longer.
"An announcement of her resignation can be expected, possibly imminently, although she will no doubt stay on while her successor is found," he said.
You can share this story on social media: