Tories & the DUP: What does the future hold for Britain's newest government?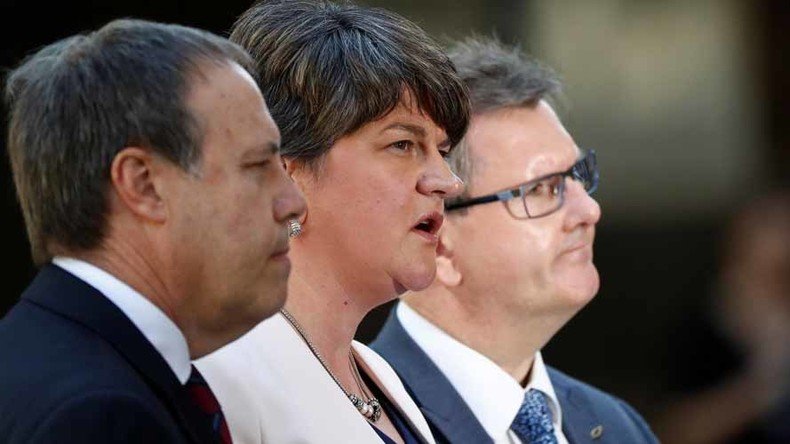 Criticism poured in from all sides after the Conservative Party finally reached a deal with the Northern Irish Democratic Unionist Party (DUP) on Monday.
Negotiations with the DUP had been running for over two weeks, after the Tories lost their parliamentary majority in the June 8 election. The Unionists hold 10 seats in the House of Commons, which could tie Theresa May's party over in a parliamentary vote.
However, the deal announced this week includes a series of capitulations sacrificing some of the Conservatives' key electoral pledges, as well as a £1 billion confidence and supply cash sum.
Magic Money Tree
Many of the government's critics were perplexed to hear that the Tories were happy to hand over £1 billion in taxpayer money to the DUP, after having pointed the finger at the Opposition's spending plans several times.
Labour has often been accused of counting on a "magic money tree" to subsidize its plans to invest in the National Health Service (NHS), education, and other welfare infrastructures. So, it was less than surprising when anti-austerity campaigners and pundits alike started using the metaphor for the Tory-DUP deal.
"And lo! The Tories did conjure up the magic money tree to shower gifts on their homophobic, anti-choice, climate change denying friends," Guardian commentator Owen Jones wrote on Twitter.
Theresa May to a nurse who hasn't had a pay rise in 8yrs: "there's no magic money tree"
May to DUP: Here's £1.5 billion so I can keep my job

— Fiona Rutherford (@Fi_Rutherford) 26 June 2017
#theresamay never had any money for the poor, for housing, for the NHS for policing but she found 1.5 billion to stay in power #DUPCoalition

— Harry Leslie Smith (@Harryslaststand) 26 June 2017
"Theresa May found her magic money tree, shaking it for £1bn to bung the DUP and survive as PM. Hers is the most subsidised job in the UK," echoed the Mirror's deputy editor Kevin Maguire.
"There is a magic money tree. Turns out it only gives money to people who hate humanity. Tough shit nurses," comedian Richard Herring chimed in.
Brexit divorce bill
Others worried about the consequences the deal could have on the Brexit negotiations, as the DUP is a well-known supporter of 'soft Brexit' and keen to keep a soft border with the Irish Republic.
Given that May's negotiations with the DUP resulted in the extraordinary stipend, critics are now wondering what months of Brexit negotiations will do to the British purse.
Withdrawing from the European Union will cost Britain an estimated £100 billion if Brussels gets its way. Could more money be on the line?
This #strongandstable Tory gov gives DUP £1bn after couple weeks chat
Makes you wonder how much EU is gonna get after Brexit negotiations

— Joana Ramiro (@JoanaRamiroUK) 26 June 2017
"We're in the sh*t; £1bn to buy 10 MP's votes to stay in power. How big a #Brexit bill will @theresa_may give away?" tweeted Law Society Criminal Law Committee chair James Parry.
Scotland & Wales
Now that the money is there for Northern Ireland, it didn't take long for the devolved powers in Scotland and Wales to complain about their rights to extra funds.
Scotland's first minister, Nicola Sturgeon, branded the deal between the Tories and the DUP "the worst kind of pork-barrel politics" and warned that the stipend would have knock on effects for other nations.
Scotland suspects that it would lose nearly £3 billion for public services as a result of Westminster "ignoring" the Barnett formula – the mechanism used to distribute Treasury funds to the devolved institutions.
Wales predicts losses in the range of £1.67 billion.
"Today's deal represents a straight bung to keep a weak Prime Minister and a faltering Government in office," Welsh First Minister Carwyn Jones said after the DUP deal was announced.
"Only last week we were told that the priority was to 'build a more united country, strengthening the social, economic and cultural bonds between England, Northern Ireland, Scotland and Wales.' This deal flies in the face of that commitment and further weakens the UK, and as currently drafted all but kills the idea of fair funding for the nations and regions."
Any sense of fairness sacrificed on the altar of grubby DUP deal to let PM cling to power, & Scots Tories influence in No10 shown to be zero

— Nicola Sturgeon (@NicolaSturgeon) 26 June 2017
Sturgeon echoed the sentiment, saying that "in concluding this grubby, shameless deal, the Tories have shown that they will stop at nothing to hold on to power – even sacrificing the very basic principles of devolution."

"The Tories' excuses are simply empty spin and expose that they once again plan on short-changing Scotland," she added.
"This is not a city deal – it is simply an attempt to pull the wool over people's eyes. This is the worst kind of pork-barrel politics, which has shredded the last vestiges of credibility of this weakened Prime Minister."
DUP 'toxic brand' for Tories
Even May's fellow Conservatives seemed unhappy with Monday's agreement, with a Tory grandee claiming the Unionists were a "toxic brand" that would damage his party's reputation.
Lord Patten told ITV's Peston on Sunday program that the "Conservative Party has got itself back into the situation where there's a danger of it looking like the 'Nasty Party'."
DUP politicians are infamously known for having publicly expressed homophobic views, as well as having a strict Pro-Life position on abortion.
You can share this story on social media: