Royalty, politicians confronted with simmering anger of public after Grenfell fire tragedy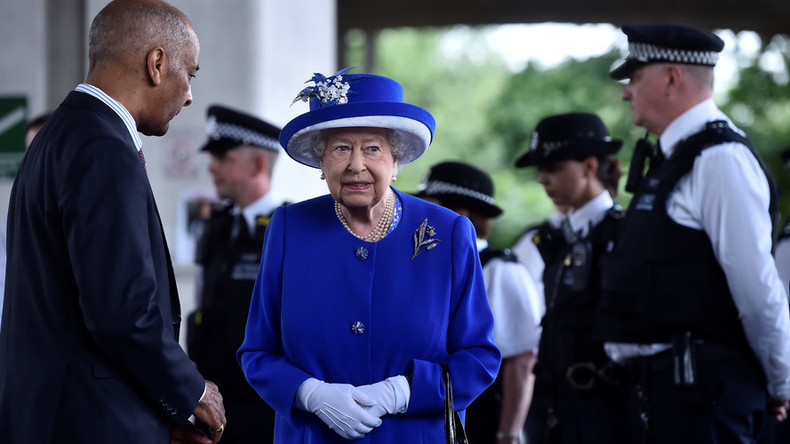 British establishment figures, who came to share their solidarity and respects with the victims of the Grenfell Tower blaze, met a local community that wants answers rather than photo ops.
It started with a fleeting visit from Prime Minister Theresa May, during which the prime minister failed to meet any of the survivors of the West London inferno. The PM was criticized by locals, fellow politicians and the public at large for only meeting with emergency services personnel and not showing her face in any of the rescue centers.
"Theresa May was here, but she didn't speak to any of us. She was sh*t," a distraught resident was reported telling Labour leader Jeremy Corbyn during his visit on Thursday.
Speaking on BBC Question Time that evening, Defense Minister Tobias Ellwood said "security concerns" had prevented the prime minister from meeting victims of the blaze which killed 30 and injured many more.
On Friday, the PM sought to make up for this, visiting Grenfell Tower residents in hospital, where 12 remain in a critical condition. May was seen entering Chelsea and Westminster hospital, where she stayed for around an hour. The media was not allowed to report on the premier's visit, but people were heard booing and heckling in footage of May's arrival.
The night before West London-raised popstar Lily Allen told Channel 4 News "the government is trying to micromanage people's grieving."
She warned that "once these people's hope turns to anger, [authorities] have got a real problem on their hands."
The Queen
But it wasn't just May that had to contend with the public's wrath after the Grenfell Tower fire. During an official visit to the scene, Queen Elizabeth II, too, was confronted by hecklers who wanted answers.
The Queen was returning to her car after visiting Westway Sports Centre, where several people are staying until accommodation is found, when a man started angrily shouting at her.
"What about our children?" the man was heard crying from the crowds.
Prince William, who accompanied the Queen on the visit, waved at the public assuring the man the royals would return.
London mayor
London Mayor Sadiq Khan was also targeted by disgruntled West Londoners during his visit to the site of the tragedy on Friday. One man was led away by police after throwing a bottle at the Labour politician, who was visiting Notting Hill Methodist Church, near the estate.
Khan faced the angry crowd while surrounded by a police guard and the media. Even a seven-year-old boy was heard to criticize the mayor following the blaze.
"How many children have died?" Kai Ramos shouted at Khan. "What are you going to do about it?"
Talking about his meeting with residents, the mayor described the crowds as "distraught, frustrated and increasingly angry" and demanded the PM chase prosecutions for possible "negligence."
"[Local residents] feel the government and local council haven't done enough to help them in the aftermath of this horrific incident, or to provide answers to their increasingly urgent questions," Khan wrote in a letter to May.
Andrea Leadsom
Leader of the House of Commons Andrea Leadsom was also taken to task while walking through the West London estate.
During an interview with Sky News, Leadsom was made to defend the prime minister for her absence.
"Why are Sadiq Khan and Corbyn coming down here to speak to people and Theresa May is coming here with police, walking around, not meeting no one [sic], not meeting families?" a young local asked the cabinet minister.
Seize Kensington's empty luxury properties to house Grenfell Tower homeless – Labour MP
"This fire could have been stopped a long, long time ago ... There's not even sprinklers in there," the man added.
"In 2009, the last block was on fire. What has changed since then? Nothing. Enough is enough, I have got friends in that tower. I have a right to be angry. Because of people saving money, people are dying."