Theresa May orders public inquiry into tragic London tower blaze (VIDEO)
Published time: 15 Jun, 2017 16:36
Edited time: 16 Jun, 2017 09:12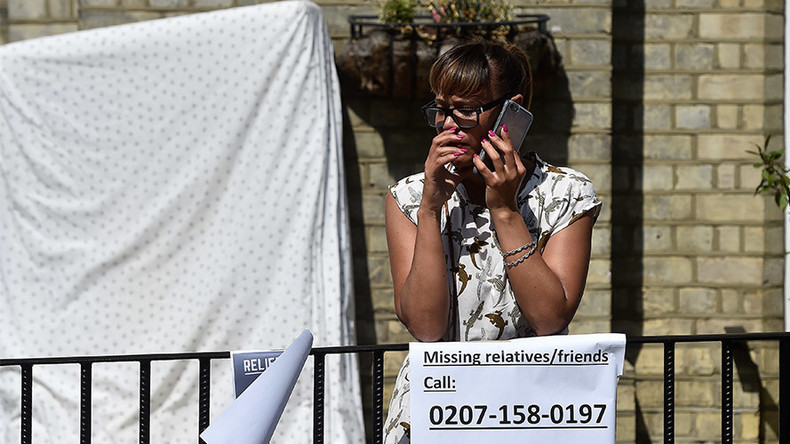 Theresa May has called for an official public inquiry into the fire that destroyed a social tower block in west London.
"We need to ensure that this terrible tragedy is properly investigated," the prime minister said from Downing Street after returning from a visit to Grenfell Tower.
"When I went to the scene and spoke to the emergency services, they told me that the way this fire had spread and took hold of the building was rapid, it was ferocious, it was unexpected," she added.
"So it is right that, in addition to the immediate fire report that will be produced and any potential police investigation, that we do have a full public inquiry to get to the bottom of this. People deserve answers. The inquiry will give them," she said.
Many have blamed the fire's fast spread on the exterior cladding used in the building's recent £10 million refurbishment. Ministers had been warned several times in the past few years about the panels, which contain a flammable plastic core and have been linked to fires in France and the US.
However, London Fire Commissioner Dany Cotton warned that initial investigations will take "weeks," and finding answers could be a "very slow and painstaking process."
"This is a large building, there will be a large amount of building work required internally," Cotton explained.
"Before we do that, we are going to utilise some specialist dog training teams that we have, that will go through the building and the surrounding area looking for any identification of people. The benefit of using those dogs is clearly they are much lighter than people and they can cover a greater area in a very short space of time.
"I anticipate that London Fire Brigade will be on scene here for many days to come, working with our partners to ensure that we do the best for the people who are waiting for news of their loved ones."
"This will be a detailed fingertip search," she added.
So far, authorities have confirmed that 17 people lost their lives in the inferno, but the number is expected to rise in coming days. According to the National Health Service (NHS), 37 Grenfell Tower residents are in the hospital, of whom 17 remain in a critical condition.