May & Corbyn visit site of London tower fire, but PM avoids talking to survivors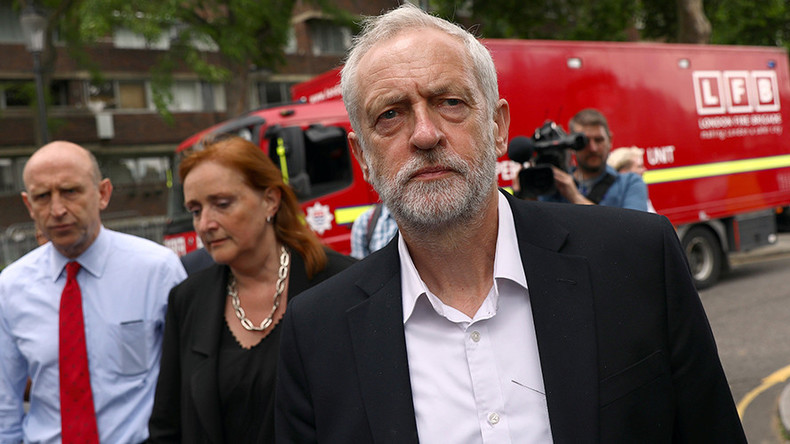 A tale of two leaders. Prime Minister Theresa May made a private visit to the site of the Grenfell Tower blaze on Thursday, limiting her interactions to emergency workers. Labour leader Jeremy Corbyn, meanwhile, met with survivors and volunteers.
Politicians warned 'several times' about cladding fire risk to London tower
The PM arrived in the west London borough of Kensington and Chelsea on Thursday morning. She had initially planned a public engagement but in the end decided to appear privately.
She was shown around the cordoned-off area and met firefighters and police officers, but left before speaking to any local residents or victims of the tragedy, in which 17 people are confirmed to have died.
The cursory call left many angry at the PM's perceived lack of "leadership," including TV presenter Piers Morgan.
"If it's true Theresa May didn't meet ANY survivors or relatives of the dead on her #Grenfell visit today, that's an absolute disgrace," Morgan wrote on Twitter.
"Bit sh*te that Theresa May decided against meeting or speaking to a single resident/surviver, but did arrange a photo op with firefighters," said another Twitter user.
"Appalling that Theresa May went to Grenfell Tower and didn't meet the residents. It's just appalling," Guardian journalist Owen Jones added.
Huffington Post executive editor Paul Waugh also wrote: "May, in No.10: 'I want to reassure the residents of Grenfell Tower, all of whom are in our thoughts..' Why not reassure them in person?"
Labour leader Corbyn appeared soon after alongside newly-elected Kensington and Chelsea MP and housing campaigner Emma Dent Coad.
The socialist opposition leader met residents and victims at a rescue center, where he was pictured embracing survivors of the tragedy.
"I will speak up for all of you," Corbyn told one angry local man. "The truth has got to come out. And it will."
In stark contrast to the PM's reception, Corbyn was welcomed by the community, with residents heard telling him: "The country needs you."
"Theresa May was here but she didn't speak to any of us. She was sh*t," a distraught female resident was reported telling the Labour leader.
"Jeremy Corbyn walking through West London meeting residents of the #Grenfell tower - he's essentially the PM until May goes," political commentator Aaron Bastani tweeted.
On Thursday afternoon, May announced a full public inquiry into the Grenfell Tower fire, saying the "terrible tragedy" had to be "properly investigated."