End of UKIP? Leader Paul Nuttall fails to win seat in Brexit heartlands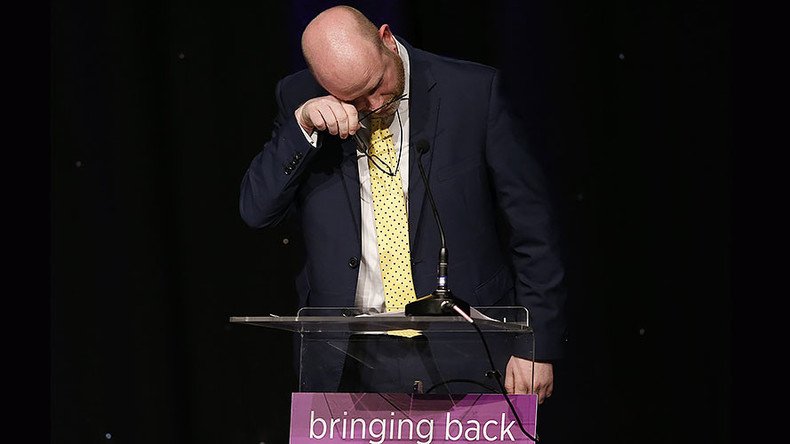 By-elections in the north of England have raised questions over the future of UKIP, as new leader Paul Nuttall was humiliatingly routed. It was a bad night for Labour, too, as Jeremy Corbyn's party barely hung on to Stoke but lost its seat in Copeland.
Nuttall lost his bid for a parliamentary seat in Stoke-on-Trent Central, where, despite the city's near 70 percent vote in favor of Brexit, euroskeptic UKIP limped over the finish line behind Labour by 12 points.
"This city will not allow ourselves to be defined by last year's referendum. And we will not allow ourselves to be divided by the result," Labour's new Stoke MP Gareth Snell said in his victory speech.
"For those who have come to Stoke-on-Trent to sow hatred and division, and to try to turn us away from our friends and neighbours, I have one message – you have failed.
"Tonight the people of Stoke-on-Trent have chosen the politics of hope over the politics of fear. We have said with one voice that hatred and bigotry are not welcome here."
The abysmal result for UKIP came as a surprise, as commentators expected Britain's new "third party" to do better in a constituency like Stoke.
"If you want to be an electoral force and a political force in this country you have to be able to win by-elections in difficult circumstances as a third party," Manchester University politics professor Rob Ford told Reuters.
"If they can't do that even in the most propitious of seats people will start to have questions."
Copeland rejects Corbyn
Although scraping to victory in Stoke, Jeremy Corbyn's Labour Party lost its Copeland seat, which it had held for 80 years.
Conservative candidate Trudy Harrison snapped the Cumbrian constituency with 13,748 votes, against 11,601 for Labour's Gillian Troughton. Shadow Chancellor John McDonnell labelled the result "really disappointing."
Both constituencies called by-elections when their serving Labour MPs resigned under Corbyn's leadership, opting instead for well paid jobs outside politics.
Labour's victory in Stoke is a decisive rejection of UKIP's politics of division. But our message was not enough to win through in Copeland

— Jeremy Corbyn MP (@jeremycorbyn) February 24, 2017
Copeland's former representative, Jamie Reed, stepped down in January, announcing he would become the head of community relations for nuclear decommissioning group Sellafield.
Stoke MP Tristram Hunt also resigned last month, leaving Westminster to become the director of the prestigious Victoria & Albert Museum.
UKIP turns on itself
Former UKIP leader Nigel Farage was not best pleased with his successor Nuttall's result in Stoke, launching an unprecedented attack on Friday afternoon.
"The message could have been clearer on issues like immigration. These are big disappointments,"Farage told Sky News.
"We failed to get tactical votes from the Conservatives. Theresa May has now taken up the Brexit mantle and people believe her, for now."
Farage blames Paul Nuttall for loss in Stoke: he had a message that was "too mainstream" apparently

In other words he wasn't racist enough

— Sunny Hundal (@sunny_hundal) February 24, 2017
Speaking from a conference in the US he added: "UKIP has to bide its time. But elections are about policy and they are also about the way you go about it, about managing data and choosing your targets. We have a lot of work to do."
Farage also thought UKIP's campaign had been too mainstream and centrist, prompting rumors he may be planning yet another return to the leadership.
UKIP finished on social media
The internet seemed to revel in UKIP's humiliating defeat in Stoke, with commentators from both sides of the political spectrum taking the chance to mock Nuttall and his party.
"You would think UKIP would be delighted that an outsider arriving in the area wasn't made welcome and given a job," joked Twitter comedian Nick Motown.
You would think UKIP would be delighted that an outsider arriving in the area wasn't made welcome and given a job.

— Jason (@NickMotown) February 24, 2017
Scottish columnist Angela Haggerty also thought the "airtime" given to the party was disproportionate to its size, especially now that both past and present leaders Nigel Farage and Paul Nuttall "failed to get elected as MPs."
Indeed, many saw a bias in the way that British mainstream media channels covered the euroskeptic party.
Now that UKIP is a total irrelevance, the BBC will hopefully no longer feel the need to broadcast the thoughts of Chairman Farage 24/7.

— Tim Walker (@ThatTimWalker) February 24, 2017
UKIP went nowhere last night, despite throwing in the kitchen sink. They've over. @bbc needs to end its love affair with them.

— 🇪🇺Sarah Brown🇪🇺 (@CloveHitched) February 24, 2017
"A bad night for the BBC, coming 2nd in Stoke and 4th in Copeland. Did I say BBC? I meant UKIP. Bad night for UKIP," wrote a Twitter user under the name of MoFloMoJo.
"After UKIP loses in Stoke then BBC have no justification giving endless airtime to this spent hard-right pressure group" added author Will Black.
You can share this story on social media: