UKIP chairmen resign over leader's 'insensitive' approach to Hillsborough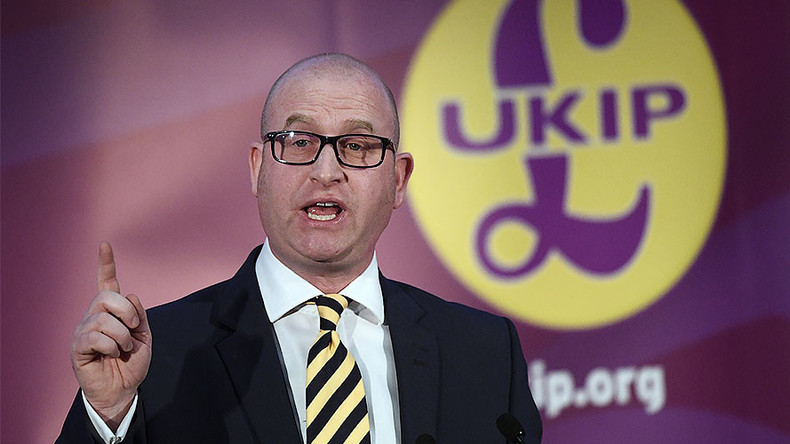 Two of UKIP's local party chairmen have resigned over what they call leader Paul Nuttall's "crass insensitivity" concerning the Hillsborough tragedy.
Liverpool and Merseyside chairmen Stuart Monkham and Adam Heatherington announced their resignations in a joint statement in which they accused Nuttall of having an "unprofessional approach," after the party leader admitted that he had not actually had "close personal friends" killed in Hillsborough, as he had claimed on his website.
A total of 96 Liverpool fans died and hundreds more were injured in a human crush during an FA Cup match at Hillsborough stadium in Sheffield on April 15, 1989.
The UKIP officials' decision to quit also comes after party donor Arron Banks complained that he is "sick to death" of hearing about Hillsborough.
"Although the timing of our resignations is unfortunate in light of upcoming elections, both Adam and I wish to make it clear, where the painful subject of Hillsborough is concerned, with closure not yet in sight, this unprofessional approach and crass insensitivity from high profile people closely within and without UKIP is upsetting and intolerable," Monkham said in a statement.
Last week, Nuttall admitted that he hadn't actually lost "personal" friends at Hillsborough, as he had posted on his website in 2011, saying: "Without them being made public we will never get to the bottom of that appalling tragedy when 96 Liverpool fans, including close personal friends of mine lost their lives."
However, he has denied accusations claiming he was never actually at the stadium on the day of the crush.
"I just want to make it perfectly clear. I was there on that day. I've got witnesses, people who will stand up in court and back me 100 percent," Nuttall said.
While acknowledging that Nuttall should have removed the statements from his website sooner, Monkham said he had accepted his leader's public apology, but "could not put up with" Banks's comments.
UKIP has been "squandered by people who have demonstrated they are not fit to lead," the statement says.
While apologizing to the people of Liverpool and those affected by Hillsborough, the chairmen asserted they had been "personally and professionally affected by words that were not said in our name," and had decided to "resign and disassociate" themselves from UKIP because of this.
The two UKIP officials admitted that the timing of their resignations was "unfortunate in light of upcoming elections" on February 23, when the party is running Nuttall as its candidate in the Stoke-central by-election.
Nuttall is currently the frontrunner against Labour candidate Gareth Snell.
You can share this story on social media: