Hillsborough inquests: Police commander admits mistakes caused death of 96 fans
Published time: 17 Mar, 2015 17:49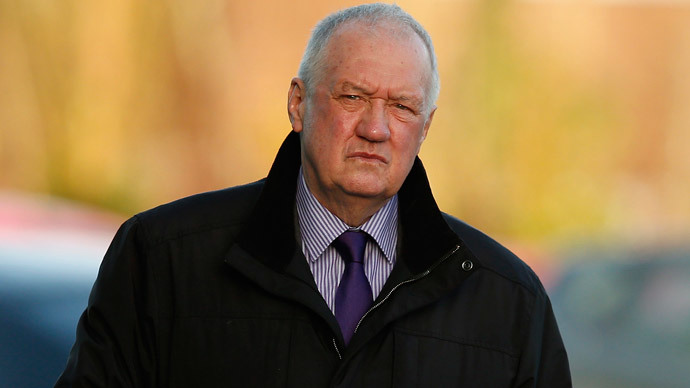 The police commander on duty on the day of the Hillsborough disaster has admitted his failings caused 96 football fans to be crushed to death, an inquest has heard.
David Duckenfield accepted that his failure to close a tunnel in the stadium "was the direct cause of the deaths of 96 people."
He told the inquest police were "in a state of shock" at the moment when crowds of football fans began to swell at the turnstiles.
Duckenfield, a 70-year-old retired police chief, was giving evidence for a sixth day at fresh Hillsborough inquests in Cheshire.
He held the position of match commander at the FA Cup semi-final game on April 15, 1989, where 96 Liverpool supporters lost their lives.
During Tuesday's inquest, Duckenfield was questioned by Paul Weatherby QC on whether he accepted responsibility for the mistakes which led to the tragedy.
Weatherby asked whether he agreed "the disaster resulted from your serious failures that day, as admitted by you before this jury?"
"Yes, sir," Duckenfield replied.
READ MORE: Hillsborough inquests: Court hears police called for dogs, not medics as fans crushed to death
He went on to admit his response to the emergency had been "hopeless."
Duckenfield was also questioned by Paul Greaney QC, who accused him of "concealing" the extent of his knowledge of the stadium from the jury.
Duckenfield replied: "I can assure you, sir, I had no idea where fans go from [turnstiles] A to G, or the opening of gate C."
Asked if he froze when confronted with the situation, the retired police officer said it would be "fair to say that we were all in a state of shock."
Greaney added it was the match commander's job to "get past any feelings of shock."
Duckenfield replied: "Yes, sir, but I am human."
Previously, the retired police chief admitted he had made a number of "mistakes" on the day of the tragedy.
He said he had lied in the aftermath of the deaths and offered his unreserved apology to the families of the deceased for doing so.
During Friday's inquest hearing, Duckenfield admitted he had called for police dogs and reinforcements instead of medics when the emergency unfolded.
He said he had initially interpreted events on the terrace as disorder amongst the crowd, and failed to realize a medical emergency was developing until 3.04 pm.
Two minutes later Duckenfield called for additional support, adding it was necessary to "help the rescue."
The inquests continue.