ANAL squatting collective takes over Qatari general's £17mn London townhouse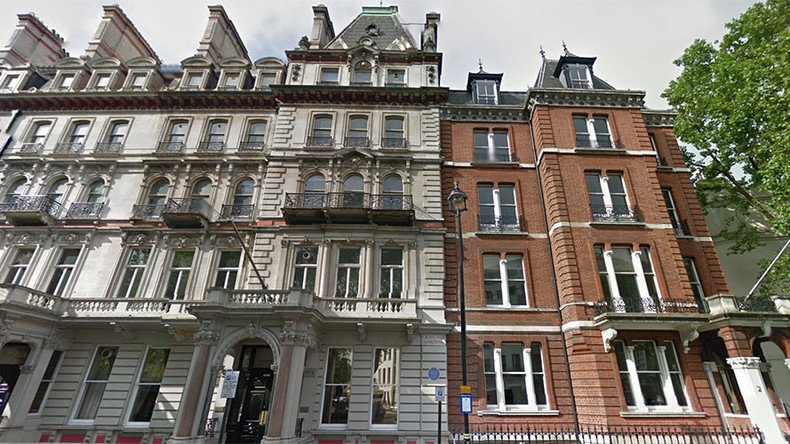 Squatters recently evicted from a mansion in London's plush Belgravia have already found a new home, setting up their homelessness outreach center in an estate belonging to "London's wealthiest landlord and biggest tax avoider."
Members of the Autonomous Nation of Anarchist Libertarians (ANAL) were living at a £15 million (US$18.8 million) mansion on Eaton Square belonging to Russian billionaire Andrey Goncharenko. But the group was violently evicted on Wednesday morning after bailiffs stormed into the property and physically removed the illegal occupants.
"We started a campaign and we're only warming up," squatter Danny told RT from the new property a few steps away on Grosvenor Gardens.
It took Danny and the group only a few hours to move to the new squat, a seven-storey building worth £17 million and owned, according to the Land Registry, by the former head of the Qatari armed forces, Hamad bin Ali Al Attiyah.
The controversial Al Attiyah stands accused of supplying Libyan rebels with financial and military support during the 2011 war. He is now the president of a Qatari football team.
The freehold of the address, however, belongs to Gerald Cavendish Grosvenor, Duke of Westminster, who owns almost 200 acres of London's exclusive Belgravia neighborhood.
Housing groups and homelessness outreach networks have backed the squatters' action.
"Homes for people, not for profit @SquatBelgravia move into new premises on freehold of London's wealthiest landlord and biggest tax avoider," Architects for Social Housing wrote on Twitter in response to the new ANAL squat.
RT understands ANAL has told homeless people they can safely stay at the address until the squat is evicted.
Some also protested against the extreme wealth concentrated in Belgravia.
"Yesterday we visited the Bolivian and the Hungarian embassy, protesting around the diplomatic district until our ground troops secured another building," Danny said.
An unnamed ANAL member told the BBC: "We'll just walk around - they'll be in doorways or somewhere. It's a room to stay in, isn't it? Even if they don't want to stay permanently.
"There's empty buildings all over the place, you just don't know about it."
You can share this story on social media: