​Qatar an 'important ally,' UK defence sec claims amid terror backing allegations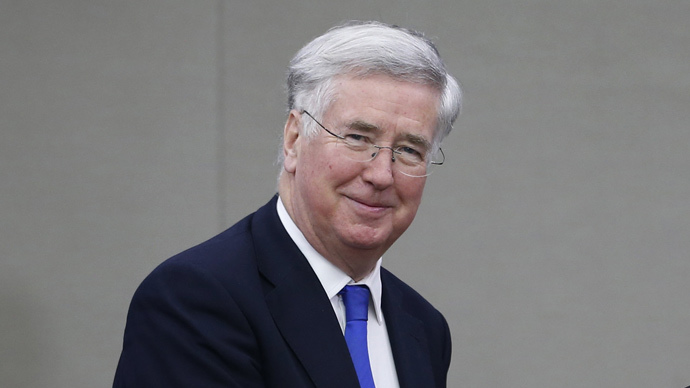 British Defence Secretary Michael Fallon praised Qatar as one of the UK's "most important allies" during a meeting with his Qatari counterpart on Monday, amid allegations that the Gulf state supports terrorism.
Fallon met with the Qatari Minister of State for Defence Affairs, Hamad Bin Ali Al Attiyah, to discuss areas for military cooperation in the fight against the Islamic State (IS, formerly ISIS/ISIL).
After the meeting, Fallon praised the Gulf state for being among the UK's "most important allies."
In a press release, the British Foreign Office said the meeting comes as the UK seeks to build "close political and military ties between the two nations."
The high-level meeting in London follows public accusations by the Egyptian government that Qatar supports IS.
Tarek Adel, Egypt's delegate to the Arab League, told Egypt's state news agency that the majority of League representatives support Egyptian airstrikes against IS militants in Libya as part of its right to self-defense.
Only Qatar "deviated" from the consensus, he added, accusing the country of continually taking positions against Egypt.
Egypt's airstrikes followed the publication of a video online showing the beheadings of 21 Egyptian Coptic Christians by militants supportive of IS in Libya.
Qatar recalled its ambassador to Egypt in protest against Adel's comments.
READ MORE:Egyptian, Libyan airstrikes on ISIS targets in Libya after terrorists behead 21 Copts
As a member of the US-led coalition conducting airstrikes against IS in Iraq and Syria, Qatar denounced Adel's statement as confusing "the need to combat terrorism and the brutal killing and burning of civilians."
Saad bin Ali al-Mohannadi, the Qatari Foreign Ministry's Director of Arab Affairs, said the nation had reservations about Egypt's decision to take unilateral military action.
Monday's meeting is the second time Fallon has met with Attiyah – the first being in November last year, when the UK defence secretary welcomed signs that Qatar was preventing terrorist funding within its borders.
In a statement, Fallon said: "Qatar remains one of the UK's most important allies in the region and I was pleased to meet with my counterpart today to review the role both our countries can play in these tackling extremist groups."
READ MORE:'Tasteless': BAE chief exec eyes lucrative arms deals in Mid East ISIS war
The meeting between the two ministers follows a visit by the Prince of Wales to several Gulf states, including Qatar, earlier this month.
It also coincides with the publication of an article by Dominic Jeremy, chief executive of UK Trade & Investment (UKTI), in which he describes the Gulf states as a "crucial investment partner" for Britain.
Writing in the Daily Telegraph, he said: "Institutional investors from Gulf Co-operation Council countries in particular have typically led the charge; the State of Qatar holds £22bn worth of investment in the UK alone, which is helping to power the continued growth of the UK economy."
You can share this story on social media: