ANAL squatters violently evicted from billionaire's London mansion, already eye new property (VIDEO)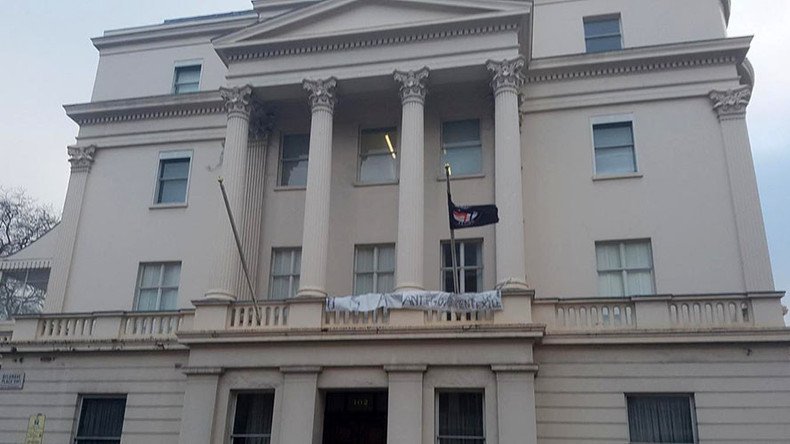 A group of squatters named Autonomous Nation of Anarchist Libertarians (ANAL) was violently evicted on Wednesday from a £15 million (US$18.9 million) Grade II house in London's exclusive Belgravia.
Over 40 activists were removed from the building early in the morning by a team of bailiffs, who had spent half an hour trying to enter the mansion on Eaton Square. The bailiffs eventually smashed through the front and basement doors and physically removed the occupiers.
"They smashed the doors down at about 10 past eight this morning, it was very heavy-handed. They were quite intimidating and frightening," squatter John Daniels told the Daily Mail.
"They smashed the front door and the door downstairs at the same time, they went round the squat and banged on the doors to get us all out. Some people were dragged out the doors, it was very over the top. Some people were in a standoff with the bailiffs and resisted but others left peacefully."
A fellow campaigner named Nico Phillips told the paper he locked himself in a room for his own safety.
"We knew that it was better to stay out of the way of any violence and to stay away from what was happening," said Phillips, who lives with cerebral palsy.
"Some people were trying to kick things off, we were on the ground floor. We were just trying to stay safe."
For every eviction there remain countless empty unused properties.
A.N.A.L will metastasize.
Shaftings will continue until humanity returns.

— A.N.A.L in Belgravia (@SquatBelgravia) February 1, 2017
ANAL member Jessica Ellis said: "One of [the bailiffs] grabbed me for no reason and I was manhandled and I said I have asthma but they didn't listen.
"I had a bottle of squash and I threw it at one of them, they shoved me against a fence and I went to head-butt another because they were pushing me down the stairs. Then I was shoved to the floor and eventually they took me round the corner and let me go."
The million-pound mansion is owned by Russian billionaire Andrey Goncharenko, who purchased it in 2014 but left it empty until now. On Tuesday members of ANAL were taken to a county court over their occupation, which ordered them to leave.
Another ANAL member going by the name of Mordechai said the group was considering a new building to target.
"Let's go for the most expensive ones, because that shows the resistance and makes it unsuitable," he said.
"This building, just like so many, is used as capital. And many people are freezing on the street. You cannot say private property is more important than people's lives. It's not.
"My thoughts were that such a building in the diplomatic quarter, in the hands of activists, could be very useful for those brothers of every country who want to organize their protests at an embassy but they have no back-up building."
It is believed that 10 homeless people were living on the premises and the police confirmed four were in the building when the eviction took place. Campaigners said they invited rough sleepers from the nearby Victoria area to come and stay at the occupied house.
"There is so much empty space and so many empty houses because people have invested in these dead assets, these stale assets," said another squatter Tom Fox.
"There are so many homeless people who need a place to stay. This place is in great condition and we have got nine or 10 homeless people living here. There are these preconceptions that they are all crack addicts and things but many people are in this situation because they have just slipped through the net.
"There would be plenty of people willing to work as minders [for these properties], you could set up CCTV and then let the homeless in. There are people dying on the streets at the moment."
You can share this story on social media: