Squatters evicted from building of squatting-prevention firm in London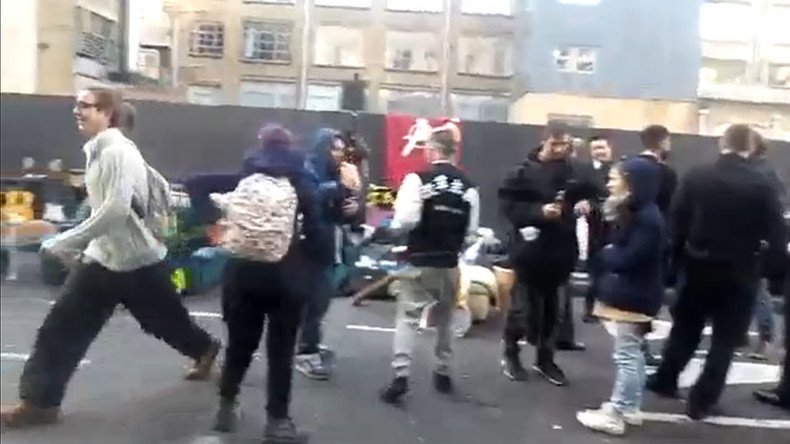 A group of campaigners occupying the old headquarters of squatting prevention company Camelot Europe were evicted on Thursday after two months living at the premises.
The residents of the so-called Came Squat told the media their occupation was political, highlighting that while companies like Camelot made a profit out of empty buildings, homelessness in Britain was on the rise.
"We received a lot of support for this occupation," a squatter named Rich told the Guardian.
"We offered yoga workshops, tea and coffee, exhibitions about homelessness and we had a recording studio facilitating young musicians to make music. It's ridiculous that there are so many homeless people on the streets while at the same time there are so many empty buildings like this one."
"We are doing this on behalf of dispossessed, homeless people and guardians who are being exploited," fellow activist Frank Freeman said at the beginning of the occupation.
"London is built on culture, but artists and creative people can no longer afford to live here. It is becoming a sterile and unaffordable place."
The more than 20 squatters were moved out of the building in London's hip Shoreditch neighborhood, after refusing a deal to keep the premises as an arts center as long as they didn't continue campaigning against homelessness.
Camelot provides guardianship schemes for empty buildings, finding people to live at commercial properties for certain amounts of time, at a lower rent cost, and so preventing squatters from taking over.
"Guardian companies are often portrayed as being exploitative, but Camelot has a dedicated team who want to continue to provide a cost-effective solution as an alternative to rocketing housing costs," said the company's chief operating officer, Mike Goldsmith.
"Camelot abide by all legal requirements for notice periods and endeavor to keep the cost of guardian living well below the market rental rate."
The deal offered by Goldsmith and Camelot to let Came Squat members use the premises as an arts center was not good enough, according to Freeman.
"What Camelot didn't make clear when the deal was first offered was that we had to agree to a number of restrictions," he explained. "The first would have been to remove any displays about the issues of homelessness and property guardianship – the reasons for occupying this office in the first place."
Camelot did not provide further comment on the premises or Thursday's eviction, but squatters said they would move on to another building.
"We want to find a big place for Christmas so that we can provide shelter for lots of homeless people who will be on the streets during the festive season," they said. "We particularly like Victorian architecture and will try to find that kind of empty property."
You can share this story on social media: