Learn the language or go home: MPs want proof migrants can speak English before they arrive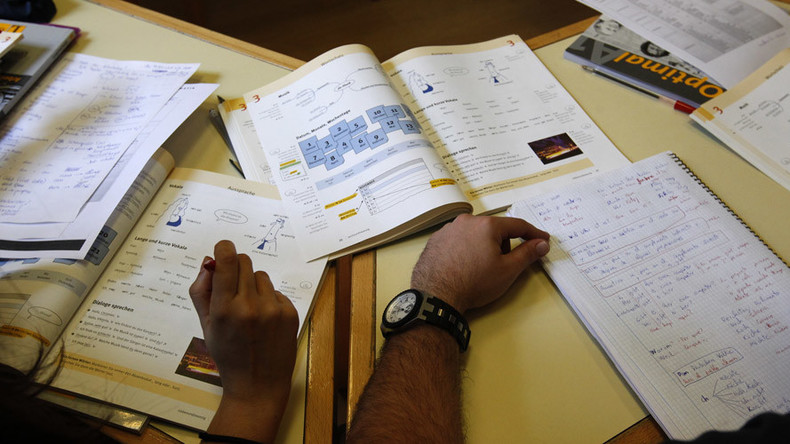 Migrants should have to learn English when they arrive in Britain, or prove they can speak the language before moving, according to a new parliamentary report.
The proposals suggest immigrants should take classes on arrival in order to socially integrate, after MPs and peers concluded the current "one size fits all" system doesn't work. A radical overhaul of the way local governments deal with immigrant communities could see regions gain the power to act however they see fit.
The policy proposals came from the All Party Parliamentary Group (APPG) on social integration in response to the findings of the Casey inquiry late last year. Dame Louise Casey looked at the problems facing Britain's increasingly diverse communities and concluded that the language barrier was one of the issues which needed immediate government attention. Other suggestions in the Casey report included an "integration oath" in which migrants would swear to uphold 'British values' on arrival.
According to the APPG: "All immigrants should be expected to either learn English before coming to the UK or be enrolled in compulsory ESOL (English for Speakers of Other Languages) classes upon arrival."
English, the group believes, is "the key to full participation in our society and economy" and a "prerequisite for meaningful engagement with most British people."
The APPG's recommendations also include region-specific visas with quotas, as well as the introduction of an 'Integration Impact Fund' for local councils. It also suggested that the Home Office investigate the possibility of immigrants being placed on automatic pathways to citizenship once they arrive in Britain.
"It's clear that immigration has impacted on different communities in different ways and the pace of change has alarmed many," APPG's chairman, Labour MP Chuka Umunna, said.
"The government has a duty to address the lack of integration of immigrants if it is to address this. Failing to do so has left a vacuum for extremists and peddlers of hate to exploit."
READ MORE: Immigration to Britain surged ahead of Brexit vote, ONS figures show

The British population currently stands at just over 64 million, with that figure having grown around six percent over the last decade. More than half of that increase is believed to be due to immigration into Britain. According to the Casey Report, 27 percent of births in 2014 alone were to mothers born abroad. Islam is now the biggest religious group in Britain after Christianity, with 2.8 million Muslims living in the UK. In areas such as Birmingham and Bradford, they make up nearly 85 percent of the local population.
The government announced on Thursday a seeming u-turn on its ESOL strategy, allocating £20 million ($24.5 million) for English language courses, and a further £140 million for local authorities to use through the Controlling Migration Fund.
Is 'learn English or else' one of these 'British values' we hear so much about, then?

— Jon Stone (@joncstone) January 5, 2017
Back in 2015, the Tories aimed to severely cut ESOL provisions. Around 16,000 places were to be scrapped as part of £450 million in savings imposed by the Treasury.
"Our country has long been home to lots of different cultures and communities, but all of us have to be part of one society – British society," a government spokesman said.
"However, we must also recognise that uncontrolled, mass immigration makes it difficult to maintain social cohesion and puts pressure on public services. Our priority is to build an immigration system that works for everyone in the UK and delivers the control we need."
But migrant rights campaigners believe the measure is small compared to recent government "efforts on making migrants feel that their situation is precarious."
"It is harder than ever to renew one's visa, immigration decisions are unfair, and appeals to decisions either don't exist or are subject to huge delays," said Joint Council for the Welfare of Immigrants legal and policy director Chai Patel.
"Landlord immigration checks, and other intrusive 'hostile environment' policies increase community suspicion and encourage segregation and a two-tier civil society. Migrants do not feel that the UK is a safe or stable home, and this is terrible for integration.
"The call to move away from a one-size-fits-all immigration policy highlights how vital it is to listen to evidence from local communities and respond to their concerns."
You can share this story on social media: