Muslim women in public roles shouldn't be veiled, says integration expert in 'divisive' report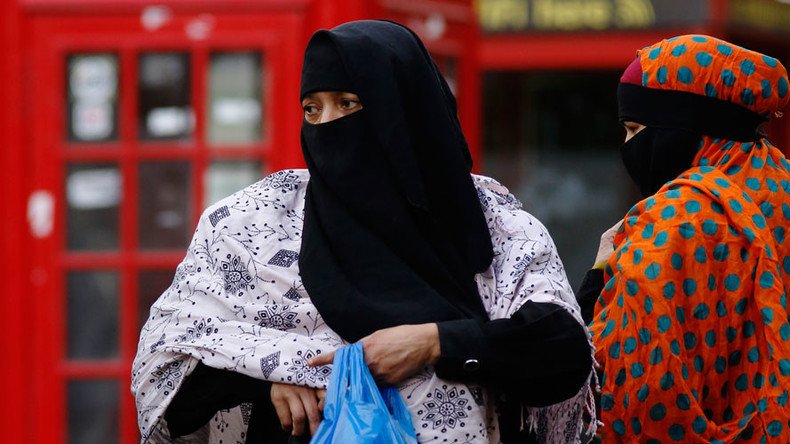 The British government's racial integration expert believes Muslim women wearing veils cannot be police officers or midwives because people "want to see their faces."
Dame Louise Casey, who on Monday presented her report on social integration in Britain, told the BBC Radio 4 Today program that although she does not want to force women to remove their veils, public bodies need to use "common sense" when recruiting.
Her year-long study, which took statements from more than 800 people, researched a series of minority groups in Britain, focusing specifically on Muslim communities.
It found "high levels of social and economic isolation in some places, and cultural and religious practices in communities that are not only holding some of our citizens back, but run contrary to British values and sometimes our laws."
The research was criticized by Muslim leaders, who dubbed it "inflammatory, divisive, [and] pandering to the agenda of the far right."
Dame Louise argued the problem lies with politicians who are more willing to ignore "inconvenient truths" than address issues of segregation and misogyny.
"Inequality within certain communities in these highly-segregated areas is getting worse, not better," she told the BBC.
"I will die in the ditch for people in this country to wear whatever they want frankly, in their own homes and in their own livelihood. Do I think that police officers or midwives should be fully veiled? No I don't. I want to see their faces, most of us do."
She also suggested the problem is not the women but "the men in those [Muslim] communities," listing "the misogyny and the patriarchy" inherent in the social interactions between Muslims as problematic.
She urged councils to collect statistics regularly on English language deficiencies among the community. New public office-holders should also pledge an oath to British values, she said.
"I fear that this report could be a missed opportunity," said the Muslim Council of Britain secretary general, Harun Khan.
"We need to improve integration, and it needs to involve the active participation of all Britons, not just Muslims. As former Prime Minister David Cameron has stated, 'integration is a two-way street.'
"The report has little discussion on white flight, and could have delved deeper into the economic structural barriers to integration."
The chief executive of the Ramadhan Foundation, Mohammed Shafiq, also condemned the report, saying: "We are saddened that once again British Muslims have become a political football which is bashed from time to time without any regard for the impact this has on individuals who then are subjected to threats and violence."
You can share this story on social media: