British Muslims want to 'fully integrate,' but believe 'worrying' conspiracy theories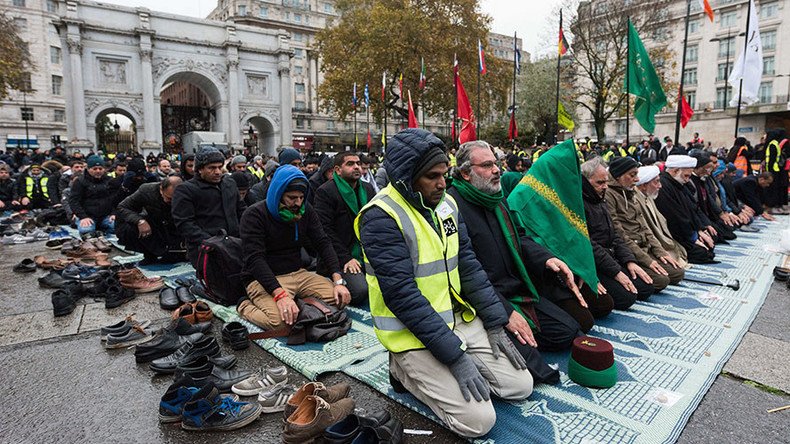 Most British Muslims want to "fully integrate" within UK society, but many have a "deeply worrying" tendency to believe in conspiracy theories, a center-right think tank claims.
A survey by ICM for Policy Exchange involving 3,000 Muslims found the majority share the same views of the wider UK population, with 93 percent feeling a fairly or very strong attachment to Britain.
The report, published on Friday, also found British Muslims tend to live more separately than other significant minorities, but added 53 percent show a desire to integrate more with non-Muslims.
The Muslim Council of Britain (MCB) strongly criticized the report, accusing it of painting British Muslims as separate, dangerous and in need of saving.
In statement, the MCB said the report had "provided ample fodder to countless headlines demonizing Muslims."
Britain's 2.7 million Muslims make up 4.8 percent of the population, according to the 2011 census.
British Muslims are more likely than the general population to condemn terrorism, the survey found, but they are also more likely to believe conspiracy theories that the United States or Jewish influences were behind the 9/11 attacks.
Thirty-one percent of Muslims blamed the US for the September 11th attacks in New York City, while 7 percent blamed Jews and 4 percent blamed Al-Qaeda. The majority, 52 percent, said they did not know.
In comparison, 71 percent of the general population blamed Al-Qaeda for the attacks, 10 percent blamed the US and just 1 percent blamed Jews.
When asked what they would do if someone close to them was "getting involved with people who support terrorism in Syria," only 52 percent said they would report them to the police.
The vast majority of Muslims want to mix more with non-Muslims in the UK, according to the report.
Some 53 percent said they wanted to "fully integrate with non-Muslims in all aspects of life," and an additional 37 percent said they wanted to integrate on "most things."
Only 6 percent expressed support for leading a "separate Islamic life as far as possible," and just 1 percent advocated "fully separate" Islamic areas.
In a foreword to the report, Labour MP for Birmingham Perry Barr, Kahlid Mahmood, said: "In an era in which intolerance and bigotry pose a growing challenge to our society, it cannot be stressed enough that most British Muslims want to integrate with their non-British neighbours."
He added that he was concerned by the "paranoid" belief in conspiracy theories and "dark anti-Muslim forces" at work.
The report warned that British Muslims should not be regarded as a single "monolithic" community and said no single body could represent all voices.
"There are some disturbing results in the poll that deserve further investigation. A large minority of Muslims seem to agree that conspiracy theories 'often contain elements of truth', in line with the broader UK population (40 percent v 37 percent). In addition, more British Muslims have conspiracy views about 9/11 in a proportion that is high and similar to results polling the US population on this issue." the MCB statement said.
"As the Muslim Council of Britain, we will be meeting to discuss how to understand this problem properly so that action can be taken to challenge these worrying views."
You can share this story on social media: