Post-Brexit plunge in immigration won't push up wages – report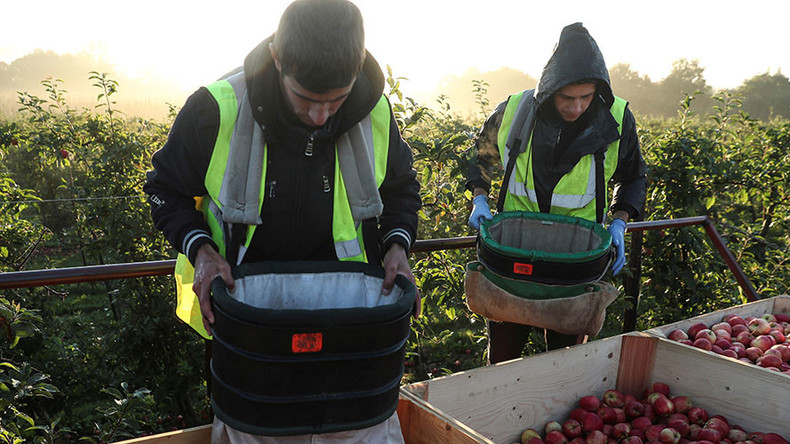 Despite claims made by Leave campaigners, a new report says Brexit will have a minimal impact on wages in Britain, with plummeting migration numbers leading to a mere 1 percent rise in pay.
According to a forecast by the National Institute of Economic and Social Research (NISR), migration from the European Union into Britain is expected to fall by as much as 91,000 a year as freedom of movement agreements are predicted to be scrapped. The drop could, however, trigger economic depression and cause Gross Domestic Product (GDP) to slump to 3.4 percent per person by 2030 according to estimates.
It is expected that a medium fall in immigration such as the one predicted by the NISR could boost wages by a "modest" 0.51 percent within the next 15 years. More extreme projections predicting up to 150,000 EU immigrants leaving the UK a year suggest a reduction in GDP per capita of 5.4 percent and a wage rise of around 0.82 percent.
This year's figures show a record influx from EU nationals into the country, with an extra 284,000 living in Britain by June. General net migration also hit new highs, with 335,000 people recorded moving to the UK – a far higher number than the government maximum target of 100,000.
"Our estimates suggest that the negative impacts on per capita GDP will be significant, potentially approaching those resulting from reduced trade," said the report's author, Jonathan Portes.
The government, however, insisted that controlling migration and improving public finances were "not incompatible" policies.
Before the Brexit referendum, Leave campaigners had linked wage depression with immigration numbers from the European Union. Vote Leave supporter and Labour MP Gisela Stuart commented at the time that remaining in the EU would give Britain "no control" over immigration, "no matter how great the pressure on schools, hospitals and housing becomes or how much wages in our poorest communities are pushed down."
Scottish govt bids to keep freedom of movement
Holyrood Brexit minister Mike Russell maintained that freedom of movement is vital to Scotland, arguing parts of the nation relied on EU migrants for a "sustainable economic population."
Talking about the advantages of being part of the EU, Russell said: "Of those... the most important to Scotland is freedom of movement. Without freedom of movement, Scotland would have a very considerable problem."
Around 25 percent of research staff in Scotland's technology industry and higher education is European.
"If you look at the overall Scottish economy, its demographic decline was in large part arrested by net inward migration by skilled labor, a lot of it from the EU," Glasgow University principal Anton Muscatelli told a panel of MSPs.
"That is critical, especially as Scotland is now in a devolved structure within the UK where its tax base is going to be critical in determining its own fiscal resources. It needs to grow the economy, it has to have that freedom of movement.
"For London, for Scotland, indeed I would argue for Wales and the northern parts of the UK, it's going to be absolutely critical to maintain that flow of skills in order to allow growth in those economies."
You can share this story on social media: