Immigration to Britain surged ahead of Brexit vote, ONS figures show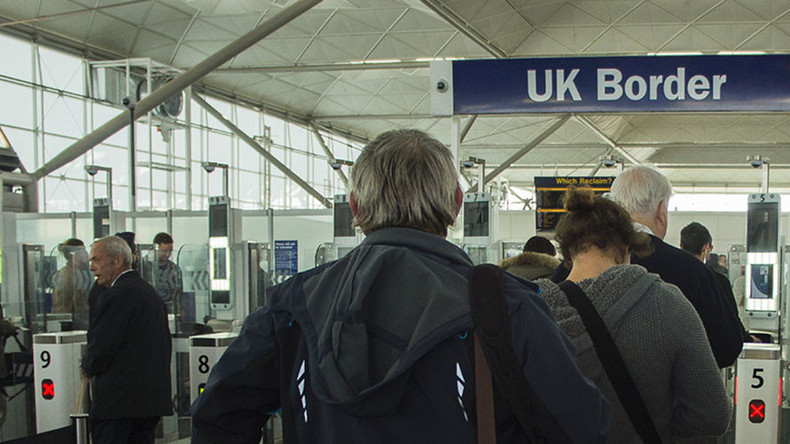 The number of EU citizens migrating to Britain hit its highest ever level in the year running up to the June Brexit referendum, new official figures show.
The estimated 284,000 EU immigrants arriving in the UK is up 19,000 on the previous year, according to the Office for National Statistics (ONS).
There were also 289,000 people coming to Britain from outside Europe. Total immigration rates were the highest ever recorded, at an estimated 650,000 – up 11,000.
Overall long-term net migration – the difference between the numbers arriving and leaving the country – remained at a near record level. At 335,000, it was just 1,000 under the previous peak from last year.
Some 77,000 Britons returned to live in the UK, while 49,000 citizens left the country.
Immigration of Bulgarian and Romanian citizens continued its upward trend, with Romania now the most common country of last residence for migrants, replacing India at the top of the table and making up 10 percent of all immigrants.
Nicola White, from the ONS, said that while net migration remains at record levels, it is "stable" compared to recent years.
"Immigration levels are now among the highest estimates recorded – the inflow of EU citizens is also at historically high levels and similar to the inflow of non-EU citizens.
"These long-term immigration figures run up to the end of June, so it is too early to say what effect, if any, the EU referendum has had on long-term international migration."
However, early indications from national insurance registration data suggest that both EU and non-EU labor migration have fallen. The largest drop, 17 percent, was among workers from Poland and other eastern European countries.
The figures come amid reports Foreign Secretary Boris Johnson privately told EU ambassadors he supports freedom of movement, which goes against the government's hard line on controlling immigration.
Immigration Minister Robert Goodwill said the government is still committed to meeting its targets. It says it wants to get net migration below 100,000.
"The British people have sent a very clear message that they want more control of immigration and we are committed to getting net migration down to sustainable levels in the tens of thousands.
"There is no consent for uncontrolled immigration, which puts pressure on schools, hospitals and public services.
"That is why reducing the number of migrants coming to the UK will be a key priority of our negotiations to leave the EU."
ONS figures also show more than a third of births in England and Wales in 2015 were to families in which one or both parents were themselves born overseas. Nationally, 230,800 births were to foreign-born parents, up from 212,500 in 2008.
The proportion was the highest in London, where in many boroughs, more than 80 percent of babies had a parent born outside the UK.
Migration Watch UK, which campaigns for lower immigration, said the ONS statistics showed the huge pressure being put on public services by large-scale immigration.
Alp Mehmet, its vice chairman, told The Times: "Looking ahead, a large proportion of London's population growth will be down to immigration so it's essential that we bring overall numbers down."
Alistair Currie, the head of campaigns at Population Matters, told the newspaper: "Along with one of the EU's highest birth rates, net migration remains a significant driver of population growth in this country and especially in London.
"Three quarters of a million babies were born in Britain in 2015 and worryingly steep population growth in London and across the country puts the squeeze on our national resources and public services."