EXCLUSIVE: Sex workers suffering violence call for greater legalization of the trade (VIDEO)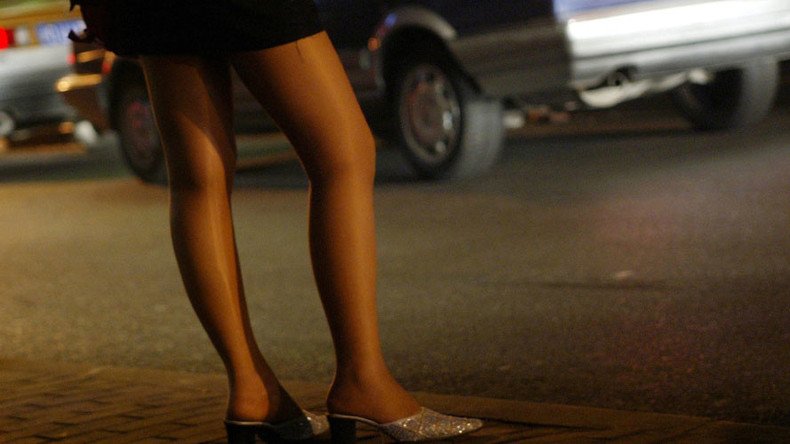 If there is one thing the Conservative Party has been concerned about since it took power, it's sex.
A total of 13 different sex acts have been banned from porn accessible in Britain in the last year. Even showing female ejaculation has been made illegal.
However, the risks to sex workers have garnered less attention, although prostitutes in Britain still report 60 instances of violence every month.
"Because of the stigma attached to what sex workers do, and the fact that the laws often criminalize them or their clients, and therefore pushes them further underground, sex workers are seen as easy targets, for violent, often serial, offenders," Alex Feis-Bryce, the chief executive of sex workers support charity National Ugly Mugs (NUM), told RT.
"That's why my organization exists, because sex workers are more frequently targeted by criminals than everybody else."
The police have been accused of not responding to the crisis adequately. NUM figures show that, in some areas, only two or three percent of sex workers that experience violence will report it to the police.
"I think the biggest barrier to sex workers reporting to the police is the actions of the police themselves," Feis-Bryce said, adding "in areas where the police pursue enforcement, whether that's arresting sex workers, raiding brothels, or even arresting the clients of sex workers, sex workers are far less likely to report to the police."
The sex workers who spoke to RT agreed with NUM, recounting how their interaction with the authorities had left them unable to trust the police enough to place a complaint.
Dominatrix Margaret Corvid explained how on two occasions her life had been at risk, but she did not feel that it was "worth the risk" of having the police take down her name and details, thus associating her with her work.
"The biggest danger that sex workers face, in the UK and in many other countries, is actually not the stereotypical dangers that people would think about, dangers from clients and so on," she added.
"The biggest dangers that we face are the dangers that criminalization causes, because criminalization, the fact that sex work or some aspects around sex work are illegal, in various ways, in various countries, means that when we are assaulted, we are harassed, raped, robbed, anything like that by a predator posing as a client, it's difficult for us to go to the police.
"Because we don't know if the police are going to help us or if they are going to look down on us because of our work and not help us, or, in some cases, we don't know if we are going to be thrown in jail."
Corvid, like Feis-Bryce, believes that decriminalization, or decrim, is the solution to the problem, and, this year, a Commons inquiry agreed that laws criminalizing or penalizing sex work, including organized sex work such as soliciting and 'brothel keeping,' should be dropped. Non-consensual sex between adults, including human trafficking would remain a criminal offence.
Not everyone agrees, however. RT spoke to Survivors of Prostitution Abuse Calling for Enlightenment (SPACE) spokeswoman Fiona Broadfoot, a survivor of sexual exploitation who now runs an early intervention program for girls and young women to "prevent them being vulnerable to groomers."
"I work with devastated people day in, day out, and I am sick to the back teeth of this being promoted as a bloody job like any other," Broadfoot said.
"The International Day to End Violence Against Sex Workers is a complete non-starter, because it is a violent and abusive act, full stop.
"We don't believe it should all be decriminalized. We believe women, the victims, should be decriminalized. And the pimps and the Johns and the traffickers and the madams should be criminalized."
However, with nearly 200 sex workers killed between 1990 and 2016, all sides of the debate seem to agree that not enough is being done.
"I don't think we are doing enough," said Broadfoot."Absolutely not."
"It's about building trust," argued Feis-Bryce, who stressed that the "police need to be focused on sex workers as people who can be targeted by offenders, so they need to open up dialogue with sex workers and try and build trust with sex workers, and in areas where they are doing that it's a huge difference."
Although the National Police Chief Council was not available to respond to the comments, assistant chief constable Nikki Holland did say the issue was "challenging" for both communities and the police service.
"Sex workers are some of the most vulnerable in our society and we need to protect them.
"The police service continues to encourage any sex workers who have been victims of crime to come forward and report it to us. It is only through a fuller intelligence picture that we will be able to implement measures to better protect people. We want sex workers to know that the police will take their reports of violence seriously and they will be treated with respect and dignity.
"Today we reaffirm our message that violence against sex workers will not be tolerated, we will work tirelessly to bring any offenders to justice," she said.
You can share this story on social media: