"Business is growing" despite fraught political environment, Russian ambassador says
Published time: 30 Nov, 2016 18:00
Edited time: 1 Dec, 2016 15:10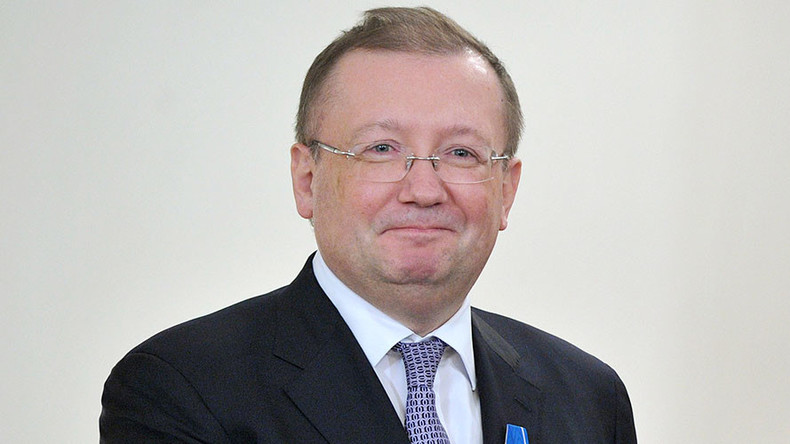 Russian and British business leaders assembled in London on Wednesday for the first day of the Russian-British Business Forum, part of the annual Eastern Seasons week of cultural, sports and business events celebrating East-West relations.
Despite the current atmosphere of political uncertainty, dignitaries from both nations were optimistic about the future of trade between Britain and Russia, saying Brexit and the election of Donald Trump could herald a new era.
"There are good signs for hope," said All-Party Parliamentary Russia Group chairman Sir Edward Leigh MP in his opening remarks.
"We have a new government of course with Theresa May, elected in July, and it brings a breath of fresh air to Whitehall and Westminster. We have a new Foreign Secretary Boris Johnson, I think he set the right tone in August when he said that Britain must, and I quote, 'normalize relations with Russia.'"
His comments followed an address by HE Dr. Alexander Yakovenko, Russian ambassador to the United Kingdom, who urged "British businesses to challenge the state of affairs by voicing their concerns" over the more hostile rhetoric of certain Westminster politicians.
"The closer cooperation of our countries could make a significant contribution to addressing global challenges."
He added that the Forum offered "a great opportunity" to restore good faith between British and Russian businesses – a message diplomats might take note of.
"Business is growing despite the reductions on the trade volume, but we see the growing quality of the business," he later told RT.
"Today I see two new companies, high tech companies, really very big, they're here and they came from Russia, and they are going to present projects. So I see interest not just in oil and gas projects, but also… high tech. This is the sector that is growing very fast in Russia and I am happy that we have them."
The unavoidable topic of the day, however, was the ongoing conflict in Syria, and Russia's intervention there against rebel forces.
With a group of anti-Syrian regime protesters outside the Queen Elizabeth II Conference Centre, inside, Dr. Yakovenko and Sir Edward insisted that the focus of Russian intervention was on deterring terrorism in the region.
"What we are trying to explain is that first of all Russia is fighting with the terrorists in Syria, in the practical terms," Dr. Yakovenko told RT when asked to comment on the protest.
"Yesterday in eastern Aleppo 80,000 people were freed. So instead of making ceasefire with the terrorists we have to fight with them. The results of that, which were achieved by the Syrian Army, are just the proof of that. Different opinions, but we believe that we are right."
Sir Edward echoed the ambassador's words saying: "Nothing will change much over the next few months, but up to now the priority of the British government has been to remove Assad. I don't speak for the British government but I suspect they now realize that Assad is not going to go.
"You cannot make the removal of Assad a precondition for round table talks, so what I've been arguing for is that America, under its new president, will sit down with Russia and Assad. America, backed by France and Britain, must try and get some sort of peace-deal. But we cannot make the removal of Assad a precondition because the priority is peace."
The Conservative MP also added that while his colleagues in Cabinet, namely current Chancellor Philip Hammond, had been rather hostile to both Russia and its allies, "we shouldn't look too much at statements made in the past, we should look to the future."