Trump & May talk NATO spending in 2nd phone conference since US election
Published time: 30 Nov, 2016 14:12
Edited time: 1 Dec, 2016 14:59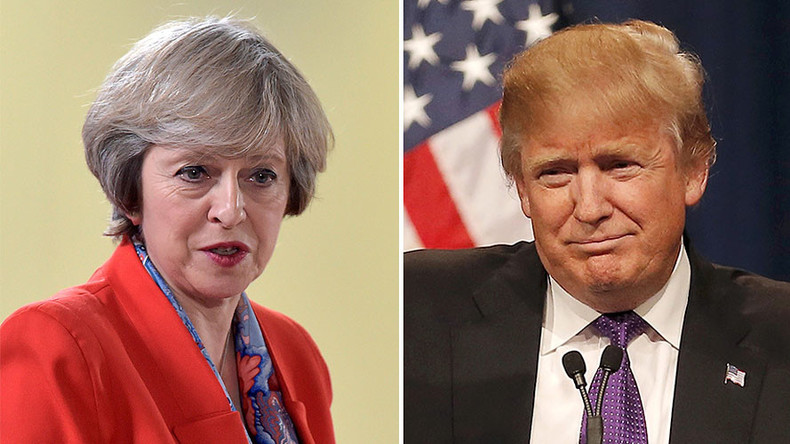 British Prime Minister Theresa May and US President-elect Donald Trump discussed NATO spending in their second phone conversation since the populist tycoon stormed to victory in Washington.
Hopes of a pre-Christmas face-to-face meeting appear to have been squashed, but a Downing Street spokesperson told the Times on Wednesday that the two had agreed to meet as soon as they could and to stay in contact.
The spokesperson said the two leaders had decided "their teams should continue to build close relationships through this period, including with a meeting of their National Security Advisers in the United States before Christmas."
The two apparently discussed NATO spending, and the symbolic two percent of gross domestic product (GDP) member states are required to spend on defense.
"They discussed NATO, agreeing on the importance of the alliance, the need for more NATO members to meet the target of spending 2 percent of GDP, and the role that NATO can play in addressing diverse threats," the spokesman said.
Trump's foreign policy views are yet to fully crystallize, having regularly shifted – and often between extremes – over the course of the election campaign.
In late November, a UK security scholar suggested a major divergence from the post-1945 'special relationship' between the two nations should not be ruled out.
Malcolm Chambers, who is deputy head of Britain's centuries old think tank the Royal United Services Institute (RUSI), told Defense News it is "already incumbent upon the British government to begin some serious thinking on the basis of what he might do," pointing to what he termed Trump's "evident sympathy" for Russian President Vladimir Putin.
"There should be no taboos about discussing the possibility of a fundamental divergence of outlook with the US," he stressed.
Other issues which are likely to define the UK-US alliance are relations with China and approaches to fighting Islamic State (IS, formerly ISIS/ISIL).