Drug mule Melissa Reid set for release from Peru prison, but 100s of Europeans remain locked up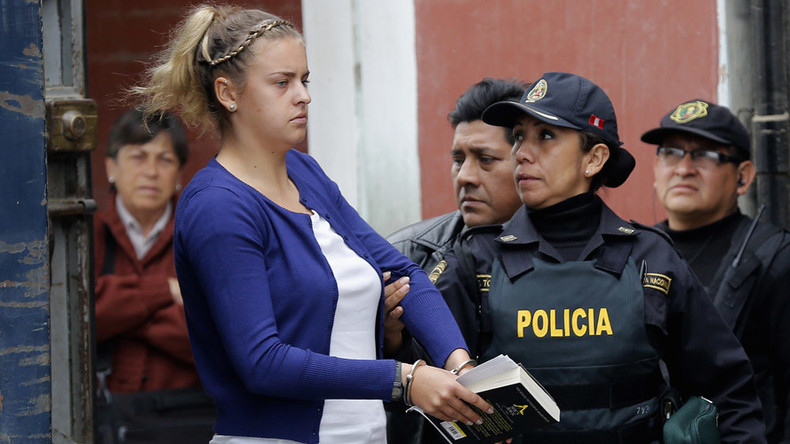 The plight of British drug mule Melissa Reid, set to be released from prison in Peru to serve the remainder of her sentence in the UK, has overshadowed the hundreds of Europeans serving time in the South American country.
Peruvian authorities confirmed the 22 year old's impending release, but wouldn't specify a date.
She was arrested in 2013 along with Michaella McCollum from Northern Ireland for attempting to smuggle £1.5 million worth of cocaine to Spain.
Court in Peru confirms British drugs mule Melissa Reid is to be expelled from the country and returned to the UK.

— Kenny Stewart (@KennySkyNews) May 14, 2016
McCollum was released in March after serving over two years under new legislation for early prison release, but still remains in Lima under her parole conditions.
In an interview with Irish state broadcaster RTÉ following her release, the 23-year-old said she was "very naive and so young."
"Obviously I regret the harm that I've done and so much suffering I've caused to my family and to myself," she added. "In the time here I thought, if the drugs had got back, what would have happened? I probably would've had a lot of blood on my hands."
The pair were caught with 11kg of cocaine disguised in food packets hidden inside their luggage at Lima Airport. They claimed they had been forced to carry the drugs by an armed criminal gang after being "kidnapped" in Ibiza where both women had been working.
READ MORE: Youngest drug mule? 11yo Colombian captured with over 100 capsules in stomach
McCollum and Reid pleaded guilty to charges later that year and faced 15 years in prison, but managed to secure shorter sentences after a plea bargain was made behind closed doors.
Peruvian police and prosecutors did not believe the story of both women being forced to become drug mules by gangsters.
Police chief Tito Perez called their versions of events "illogical," while chief prosecutor Juan Mendoza Abarca said the whole thing was "staged."
Public reaction to the announcement of Reid's release has been mixed, with some people angry her sentence in the UK will be at the British taxpayers' expense, though it still remains unclear where she will be placed.
While the focus of the high-profile case remains on both women pleading guilty to the drug offenses, whether they were forced or groomed by a gang is still up for debate.
Ibiza, where they were working for the summer prior to their trip to Peru, is known as a hotbed for illicit gangs from Manchester and Liverpool. They recruit young women into drug dealing and smuggling as a way to support their party lifestyles.
READ MORE: Girls gone wild: Porn recruiters targeting boozy British teens in Spain, UK govt warns
An investigation by the Daily Mail showed how vulnerable young women working on low salaries are intentionally targeted by gangs to sell drugs to tourists.
"We all do it - it's so easy to get into," an unnamed girl told the paper. "You get, say, 100 pills and then sell them for three times the price you paid for them. It's easy money. The trouble starts if you can't pay back the money to the dealers."
READ MORE: MPs to review UK's £13m overseas 'war on drugs' linked to execution of non-violent offenders
Though Reid and McCollum's kidnap claim was seen as "not credible," in 2013, when the two were arrested, a Merseyside gang was also jailed for a total of 32 years for running a large drug network in Ibiza, including using PR girls and dancers to sell drugs to tourists.
Also known as the cocaine capital of the world, most mules caught in Peru are European and 700 are currently being held in Peruvian jails on drug smuggling charges, according to a Channel 4 documentary.
In the film "Brit Behind Bars", a groomer admitted targeting backpackers on a budget or clubgoers. He made "girls fall in love" with him as part of the process, showing that the drug mule trade is still a million-dollar business.
Reid and McCollum made international headlines, but hundreds of others did not get the same media attention when caught.