Youngest drug mule? 11yo Colombian captured with over 100 capsules in stomach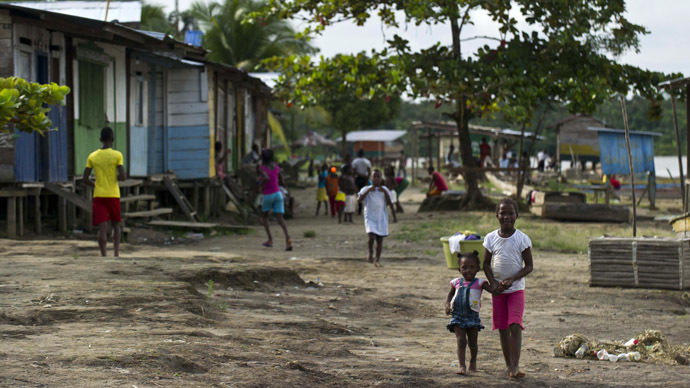 An 11-year old girl thought to be the youngest drug mule ever caught in Colombia has been found with more than 100 capsules in her stomach. Her father, who is thought to be behind it, had to rush her to hospital shortly before a trip to Europe.
CCTV images show the girl's dad bursting into Accident and Emergency at a hospital in Cali, a city in western Colombia, carrying her in his arms and then swiftly leaving the building, the Daily Mirror reports. One of the bags is thought to have burst in the girl's stomach.
The girl was due to board a plane to Madrid with her father just hours before the incident occurred. The pair's final intended destination was the Canary Islands.
Detectives are now questioning the girl's mother and hunting for her father.
"The girl underwent emergency surgery because of the risk to her life and 104 capsules that appear to be cocaine capsules were removed from her body," said Cali police chief Hoover Penilla. "Everything is pointing to the fact this youngster was going to be used in a twisted way by adults as a drugs mule to transport drugs from Colombia to another country."
Police say about a half kilo of drugs thought to be cocaine were found inside the girl.
Police investigating the case say that her parents applied for a visa for the girl at the beginning of the school year, and told her school that she would be away for a fortnight.
The girl's parents are separated. Her mother told police that the girl went to stay with her father over the weekend, and when she returned she complained that she felt unwell, AFP reported. However, detectives have since searched the mother's house and found evidence that the parents are cohabiting, the Daily Mirror says.
The girl is still being looked after in Cali's Valle del Lili Hospital, although her life is no longer in danger, and will be taken away from her family and placed in temporary care.
"A case like this is horrific because it puts the life of an 11-year old girl at risk," said Jhon Arley Murillo, a spokesman for the Colombian Family Welfare Institute.
Police in Colombia say they have never come across children as young as this being used as drug mules by their own parents.
Drugs such as cocaine and heroin are often put in condoms or other crude receptacles and then swallowed by the mule, often ingesting 80-125 pellets which can contain up to 1.25 kilograms of the stuff. One of the biggest dangers to drugs mules is that these pellets can rupture inside the stomach, which can sometimes result in death.