Girls gone wild: Porn recruiters targeting boozy British teens in Spain, UK govt warns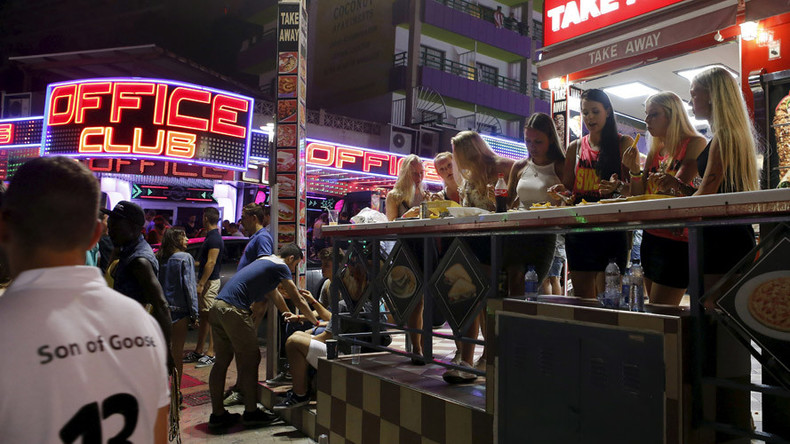 The recruitment method used by 'Girls Gone Wild' producers has been exported to Spain's party islands, with drunk British women targeted for porn sites.
The UK government is urging its female citizens to be on the lookout for producers from the Netherlands, Germany, and eastern Europe, especially when they're 'off their heads'.
The porn recruiters have been spotted outside bars in the town of Magaluf, a popular destination for young party people.
Women are being offered £500 to perform a sex scene on camera and told it will appear only on "subscription-only" foreign sites, not in their home country, according to the Daily Record.
Of course, they're lying since "trailers" for the films have since been spotted on free sites with titles including Magaluf Teens and Fresh Air Makes Me Horny.
Majorca has a wild reputation with thousands of young Brits celebrating finishing their school days by flocking to the island to let off some steam and consume lots of alcohol (and other substances).
Magaluf cracks down on street drinking after Northern Ireland girl's sex act with 24 men - but drunken scenes… http://t.co/4tEd7FfD5s

— Belfast Journal (@belfastjournal) June 9, 2015
A German site is advertising work in Majorca, seeking "pretty, young, and natural actresses for our high-class erotic productions in Majorca."
Free accommodation has also been offered for their holiday as an extra incentive, although similar sweeteners from the Miami producers for Hot Girls Wanted ended up being deducted from the performers' pay.
Joe Francis, founder of porn entertainment franchise Girls Gone Wild, has been convicted of a number of crimes - ranging from tax evasion and bribery to false imprisonment and child abuse.
He was jailed for 270 days for attacking and holding two girls prisoner in his Bel Air mansion, but the multi-million dollar venture has since gone bankrupt and Francis, who describes himself as an "Entrepreneur and Father of 2 Adorable Little Girls" on his Twitter profile, is believed to be living in Mexico.
Porn isn't the only exploitative game in Spain. The UK foreign affairs ministry also warns its citizens of both genders about recruiters trying to sell them illegal property.
Spain's property bubble caused a 200 percent rise in real estate prices between 1996 and 2007, leaving a number of "ghost towns" after the global financial crash.
Many Brits lured by advertisements of idyllic homes in the sun found themselves living in partial developments, surrounded by an abandoned worksite with few if any of the promised amenities.
READ MORE: Spy planes catching property tax cheats in Spain with possible Brexit looming
Those who bought homes from developers without planning permission won a small victory last year through a decision that gives them compensation if their "illegal" home was demolished.
British property owners in Spain to be guaranteed compensation if their homes are demolished because they are illegal http://t.co/AFmzOmyQaQ

— TimesBusiness (@TimesBusiness) March 13, 2015