'Enslaved, violated, exploited': Hundreds of Nigerians trafficked to UK, say crime chiefs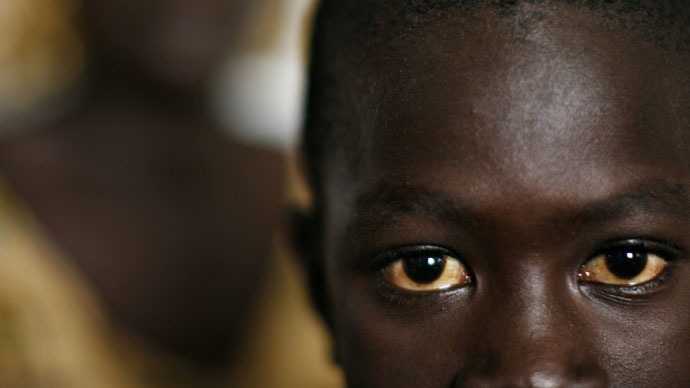 Hundreds of vulnerable Nigerians are being illegally trafficked into Britain, where they are often sexually exploited or forced into domestic slavery, it has emerged.
Official statistics from Britain's National Crime Agency (NCA) reveal over 2,000 possible trafficking victims were brought to the attention of UK authorities in 2014. Of these, 244 came from Nigeria – a 31 percent increase on the previous year.
Human rights group Anti-Slavery International said the problem could be more serious than official statistics indicate.
UK Anti-slavery commissioner @HylandIASC: Nigerian trafficking priority. Also see @FiCunningham_ report on EU slavery http://t.co/9qJf3jKC8B

— CentreSocialJustice (@csjthinktank) June 17, 2015
"Only 20 percent of [human trafficking] victims from outside of the EU – including Nigerians – get recognized as victims," it said.
The human rights group added it was "no surprise" victims don't want to report their circumstances to UK authorities, as the "threat of deportation" is "very real."
Britain's anti-slavery commissioner Kevin Hyland said tackling the influx of people from Nigeria is one of his most pressing priorities. He has pledged to connect law enforcement bodies in Africa and Europe to address the issue.
READ MORE: Give modern slavery victims petty crime immunity, build case against traffickers – UK govt
READ MORE: Police failing children forced into 'Oliver Twist' street crime, says anti-slavery charity
READ MORE: UK child sex trafficking soars, says National Crime Agency
Speaking on BBC Radio 4's Today program, Hyland expressed deep concern about the problem. He said the influx of illegally trafficked people from Nigeria was an ongoing problem, totaling "several hundred every year."
"This isn't just a one-off – it's continuous – so the treatment of these people, what they go through, is actually a very serious crime, so for me it's a big problem," he said.
The anti-slavery chief said the demand for this form of exploitation – be it sex slavery, labor slavery or otherwise – is disturbing. He expressed deep concern that UK residents are seeking to "buy sex," to exploit vulnerable people, and to "have children" as modern day slaves.
Hyland said a cross-border strategy is needed to tackle the crisis.
"It's about working with the law enforcement agencies in Nigeria – working with all those in the communities and telling them this could happen – and that's never been brought together before, so it's unique," he said.
"This is a new idea – Europol, Interpol, National Crime Agency, all must work together. It's up to me to oversee this. This is not about lack of resources but about using them effectively."
Centre for Social Justice (CSJ) associate director Fiona Cunningham expressed doubts over the efficiency of current methods used to evaluate states at high risk of infiltration by human trafficking networks.
She said clarity on this issue is hampered by European authorities' inadequate data and intelligence.
Cunningham has worked as a special adviser to Home Secretary Theresa May, developing policy on police and immigration reforms and organized crime.
She lobbied to have Britain's Modern Slavery Bill – the first of its kind in Europe – brought forward. The Modern Slavery Act came into effect in March.
Here's the research (by ATMG, hosted by @Anti_Slavery) analysing how many victims from outside of EU not recognised http://t.co/7CnaI4eFPB

— Anti Slavery (@Anti_Slavery) June 17, 2015
Speaking to RT on Wednesday, Cunningham said Nigeria has been ranked in the "top five high-risk countries" for several years. Other states deemed to be at risk of infiltration by human trafficking networks include Romania, Slovakia, Hungary and Albania, she said.
Cunningham said Europeans' right to move freely across the European Union (EU) is regularly abused by organized criminal outfits. She said Europe's 26-state borderless Schengen zone has made the exploitation of vulnerable people easier for these groups.
Cunningham said the root cause of the influx of trafficked people from Nigeria is a special case.
She said that poverty, limited opportunities and political unrest often serve as pull factors for global trafficking networks looking to target people in states like Nigeria.
Modern slavery finally getting the leadership & focus it requires - hundreds from #Nigeria in latest figures though http://t.co/ONCzEZVwB7

— Christian Guy (@ChristianGuy_) June 17, 2015
The trafficking of victims across borders is a highly lucrative and accessible pursuit for criminals. Criminal syndicates, operating these black-market trades, have developed sophisticated business models that often evade detection.
A CSJ study published in April found that European policy geared towards targeting and prosecuting modern slave traders is inadequate.
The report, authored by Cunningham, called on EU law enforcement agencies to do more to tackle the problem.
It called for a comprehensive pan-EU drive by governments and law enforcement authorities to "disrupt and defeat" the international criminal syndicates raking in "multi-million pound profits" from trafficking people into lives of slavery.
Cunningham's report cast light on the criminal networks sustaining the trade.
It found a large degree of modern slavery across Europe is driven by "Organized Crime Groups (OCGs)" who profit directly from exploiting vulnerable people.
"These highly sophisticated illegal businesses show a detailed understanding of how to avoid detection and prosecution by Europe's law enforcement agencies," the CSJ's report said.
The report also found modern slavery thrives on "modern technology" and the advent of cheap travel.